After a tough day at Play-La-Ploen. Here goes our third day started with breakfast at Baan-ter. For 500Baht you paid for a good night's sleep, they have breakfast for you too, how nice of them!
You get to choose between a set of steak with bread & a fried egg or a bowl of Thai rice soup with shrimp. I chose rice soup to warm up and it's very refreshing & warming for the first meal of the day.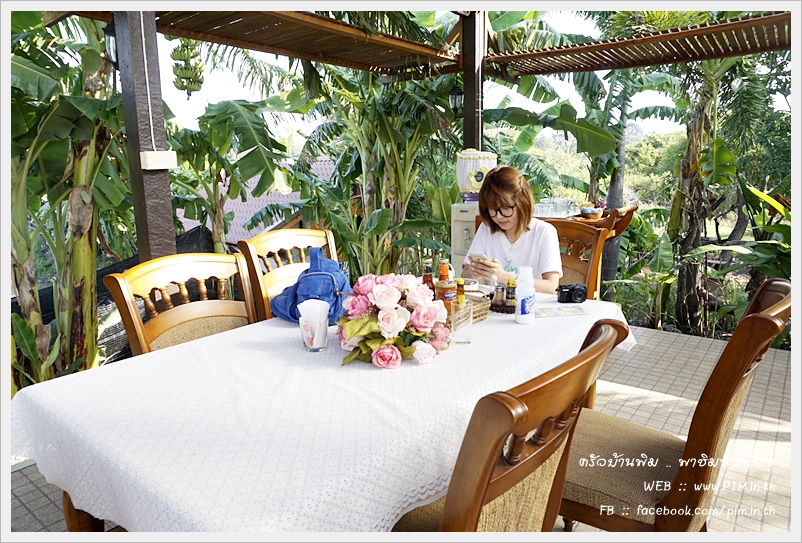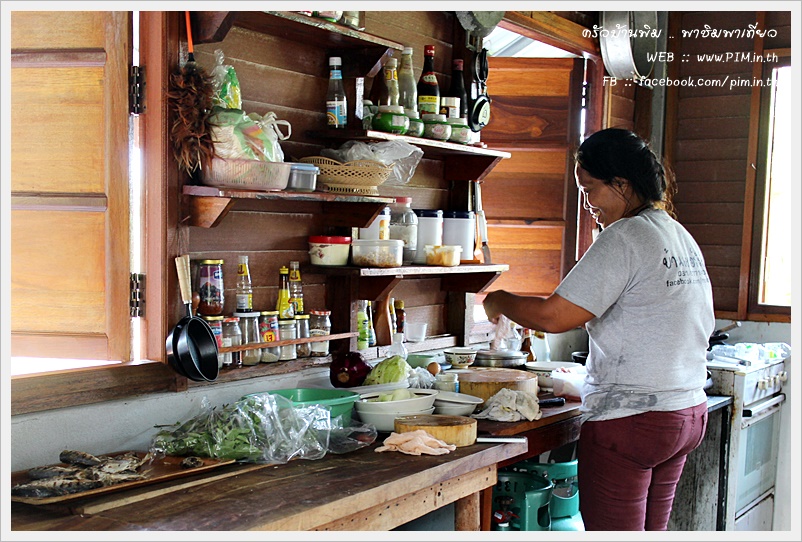 They cook each set new & fresdh after they got your order. And that's very nice for the price.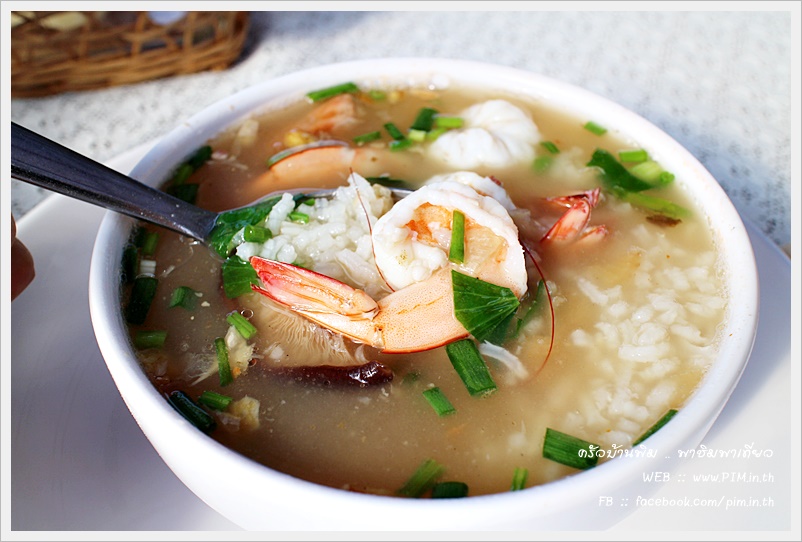 And they sure have nice view & refreshing air in the rear zone.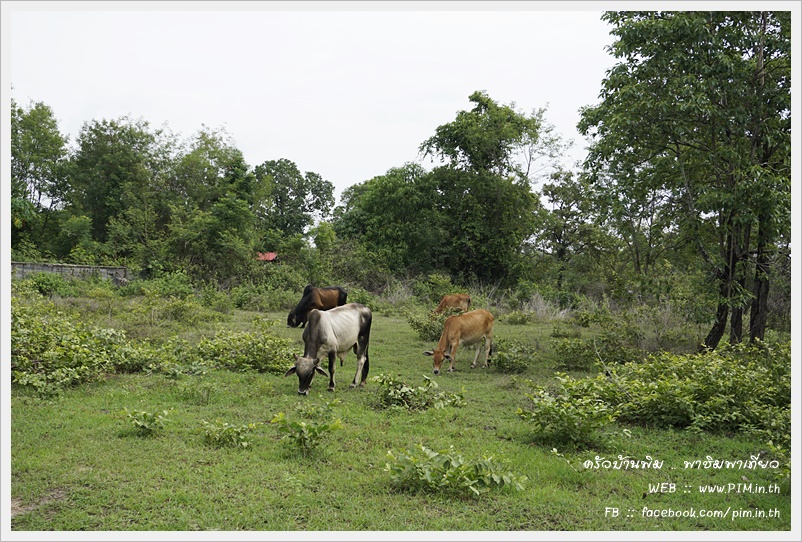 Then we had a chance to visit Buriram's City Pillar Shrine again. It's always a good to visit a palace like this in the morning because it's not crowded yet and the weather doesn't get too hot too.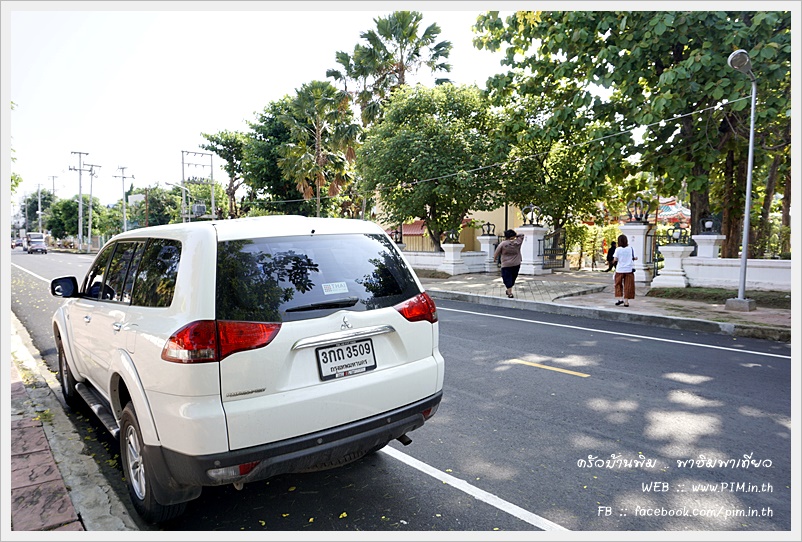 Buriram's City Pillar Shrine is located in The Buriram City like any other Pillsar Shrine does. The first kind of Chakri Dynasty used this place as a respite site during the war. And as time goes by, they decided to build a city pillar shrine here. The shrine here isn't that huge or anything and it sure looks like Pa-nom-rung castle and makes it very historic looking one. They are open from 6AM to 5PM if you want to take a visit.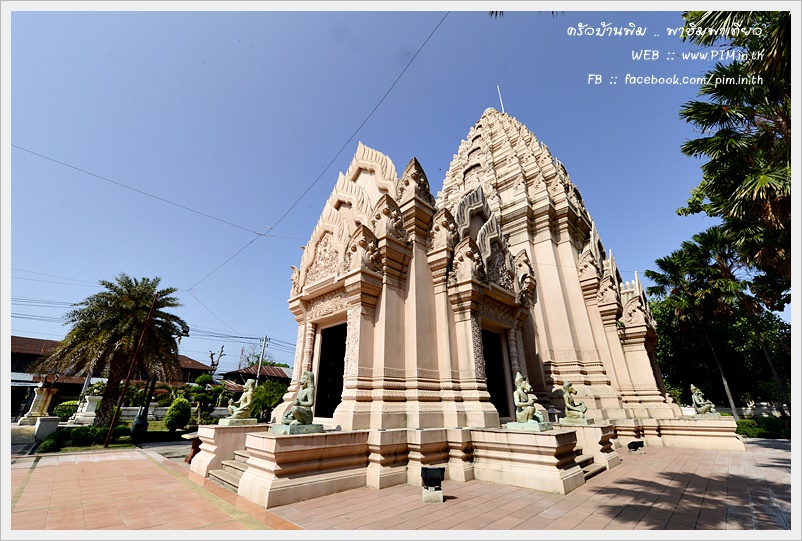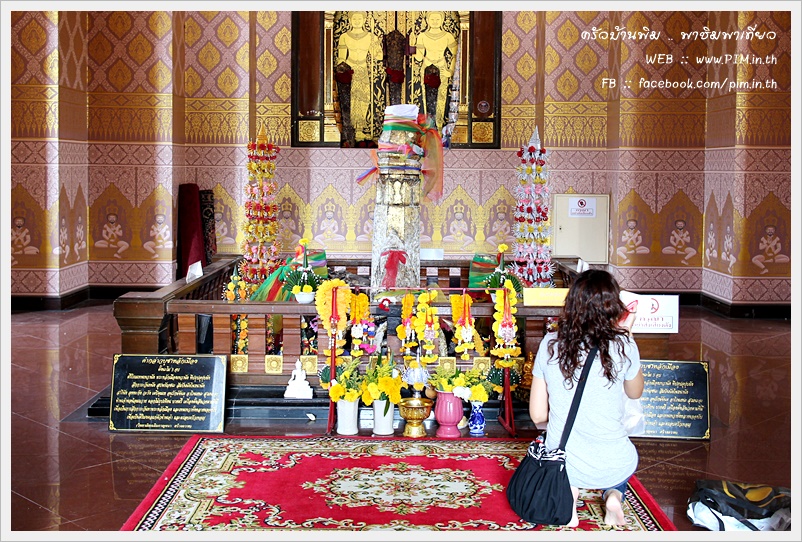 In the same area, there also is a chinese shrine and a palace of worship too.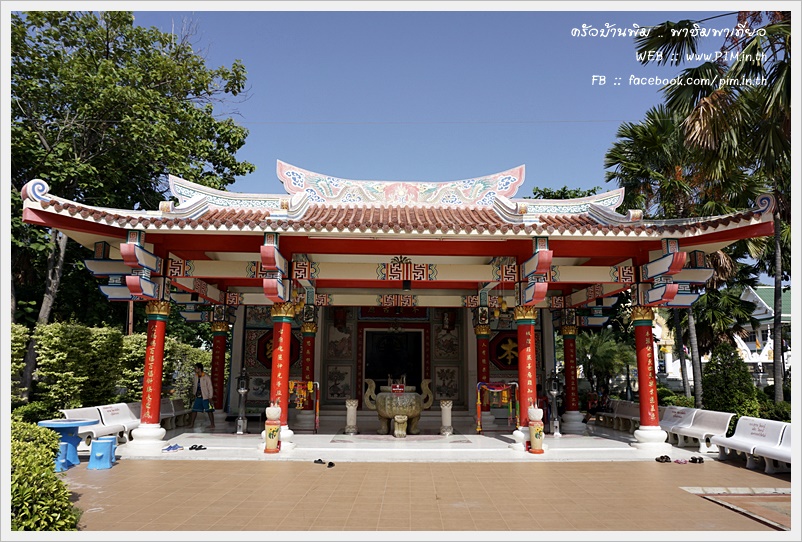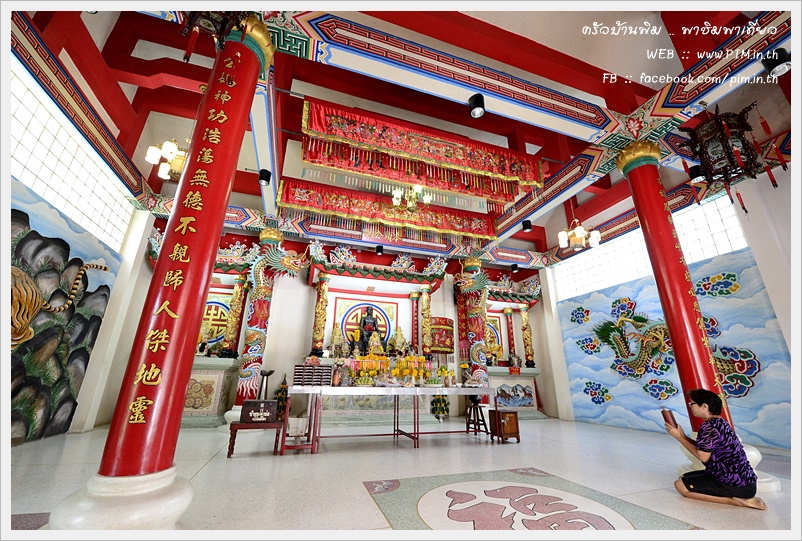 And just across the road, there is a big temple "Ararm-Luang Temple". It's also a monk school too.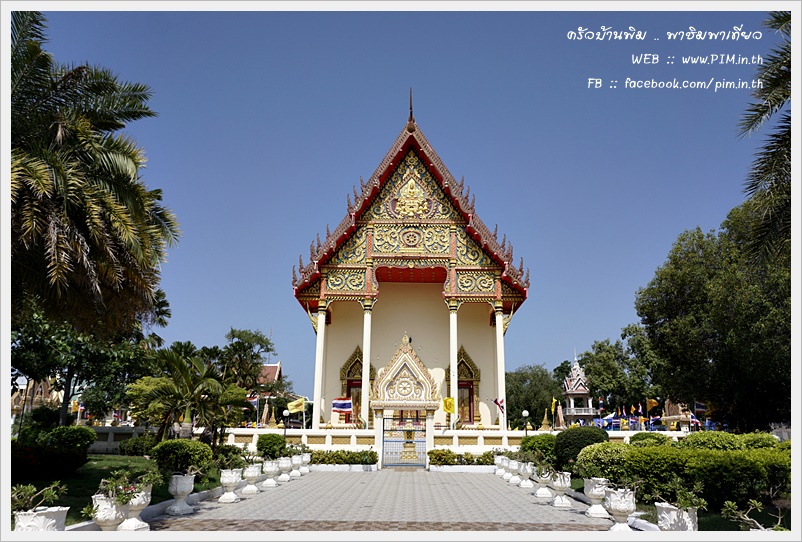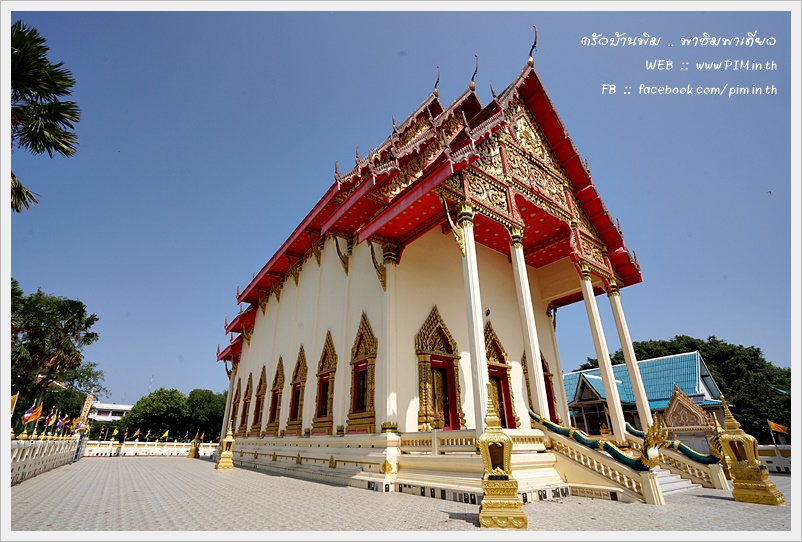 Now it's time for some decent breakfast. This place isn't that far from the train station and the beef noodles shop yesterday. They serve pork & blood jelly soup, chinese noodles, sweet sauce barbecue pork rice and crispy pork belly rice too.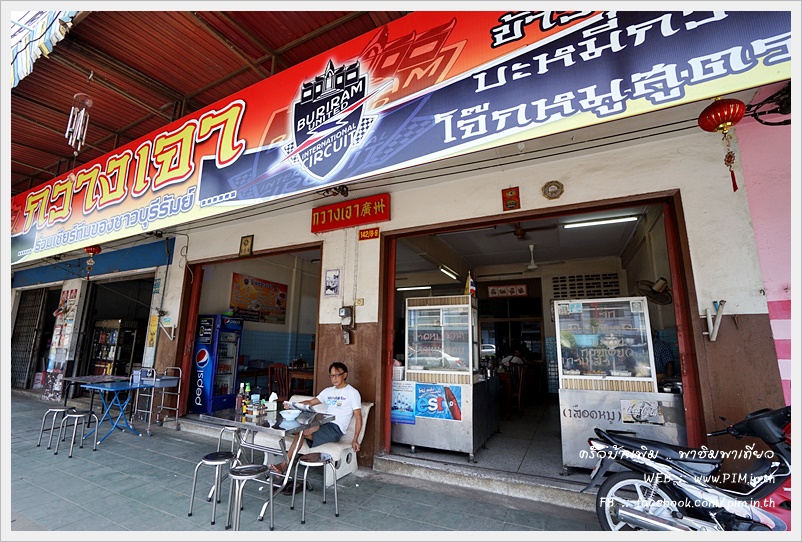 Their main dish is the sweet sauce barbecue pork rice. They've been doing this for 40-50 years, they've been the specialists for generations.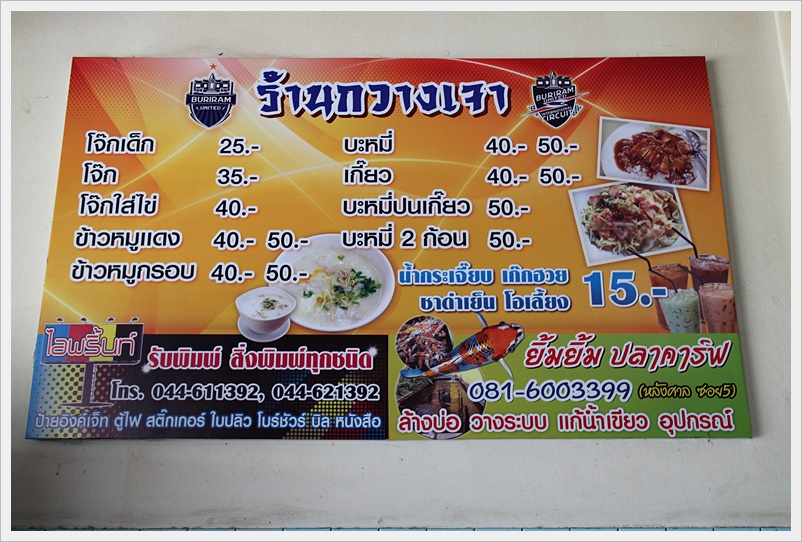 We've ordered all these. It's just the best for our starving stomachs.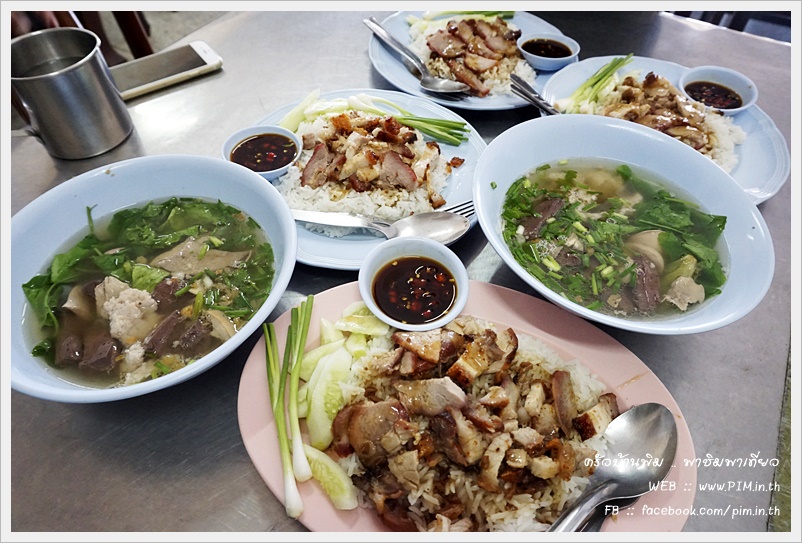 The sweet sauce barbecue pork rice has been one of my favorite dishes, and they didn't disappoint me. The pork a little bit juicy and very soft, it blends with everything in your mouth. The sauce is key, and their sauce is one of the bests for sure. All other dishes are great too.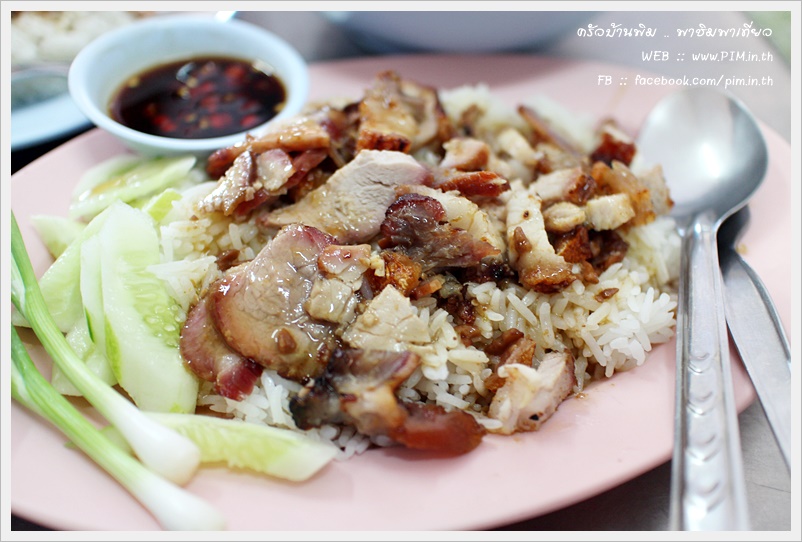 There is a drink stall just one block away. It's good & refreshing and very energetic for hot weather like this.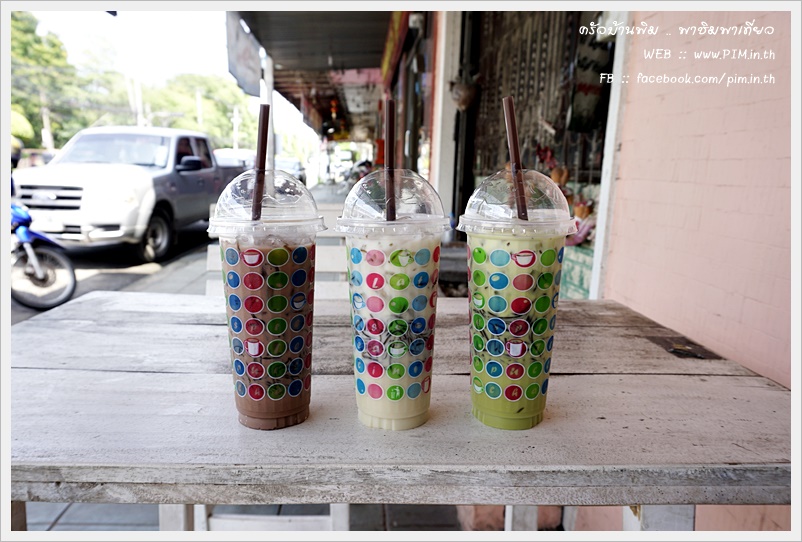 And our next destination can't be anywhere but Chang Internation Racing Circuit. They're hosting a drag bike event today.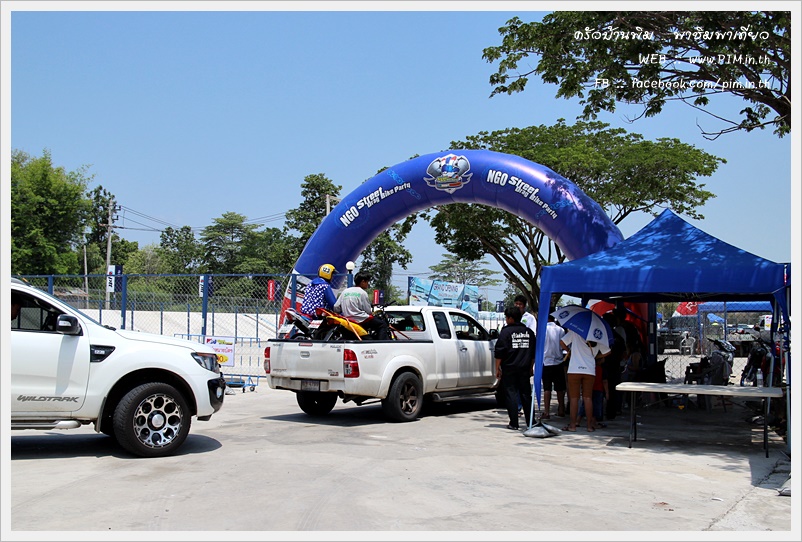 This is the first time I've ever been to any racing event. All the bikes here are heavily modified and being put to a drag stripe to measure run time & speed. The goal is to seek for ones who are the best. It takes time, money, passion, skills and soul to get this far.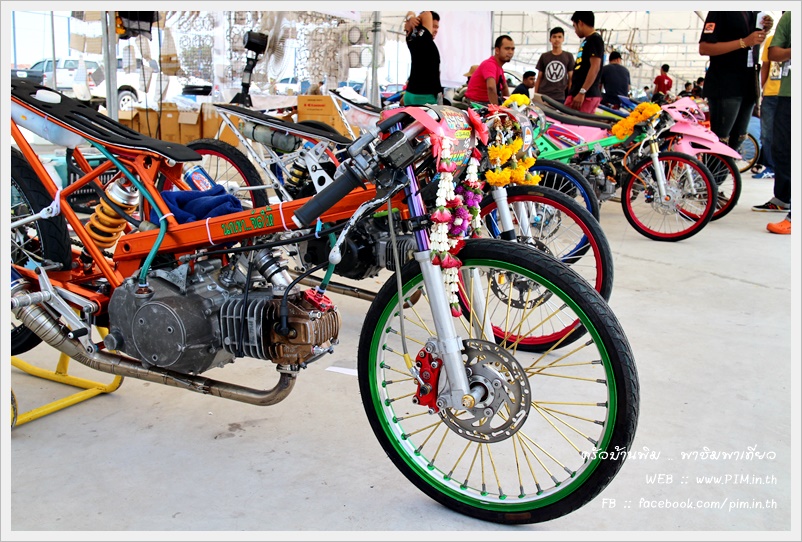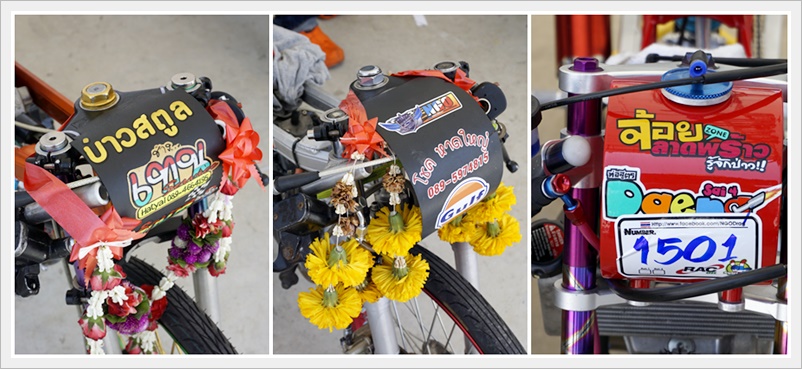 By "heavily modified", let these photos tell you how hard they modify their bikes. Almost everything has been taken out to reduce the weight so they can go faster!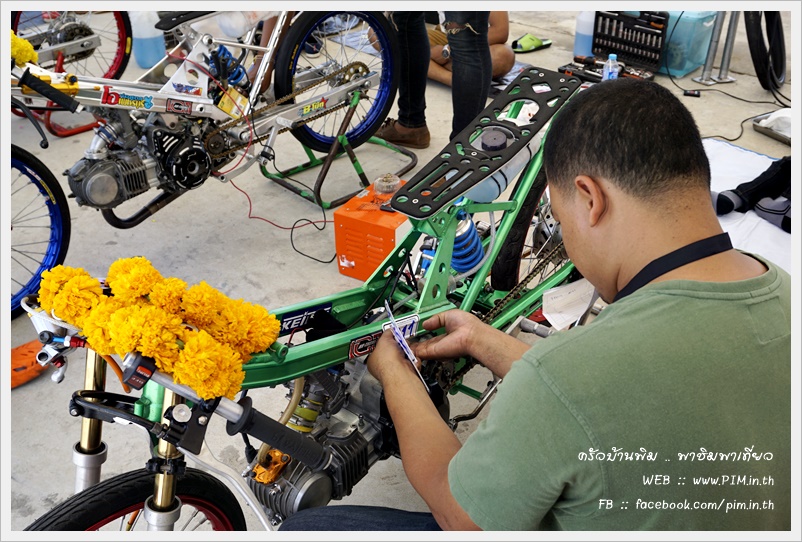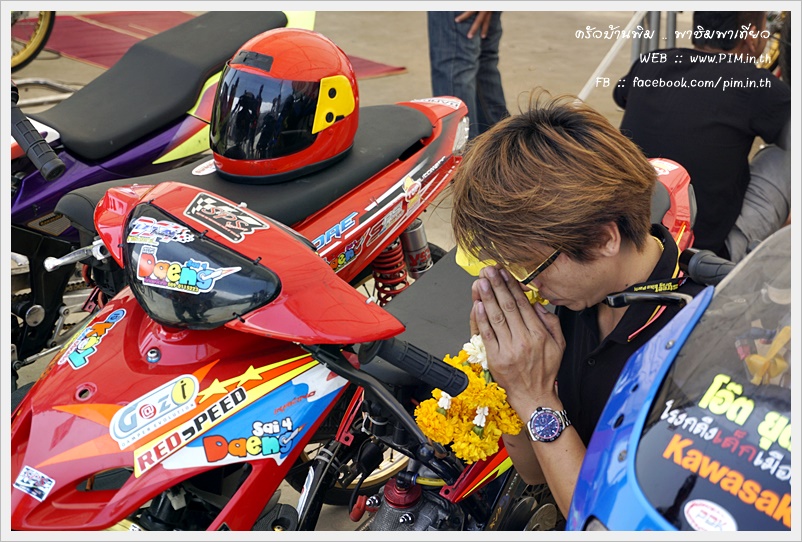 We got here at 11AM and they're just warming things up. We had a chance to see how the bikes run in. I think they'll be more serious when the real thing come. We had to move earlier due to our plan so we didn't stay to watch the whole event to the end.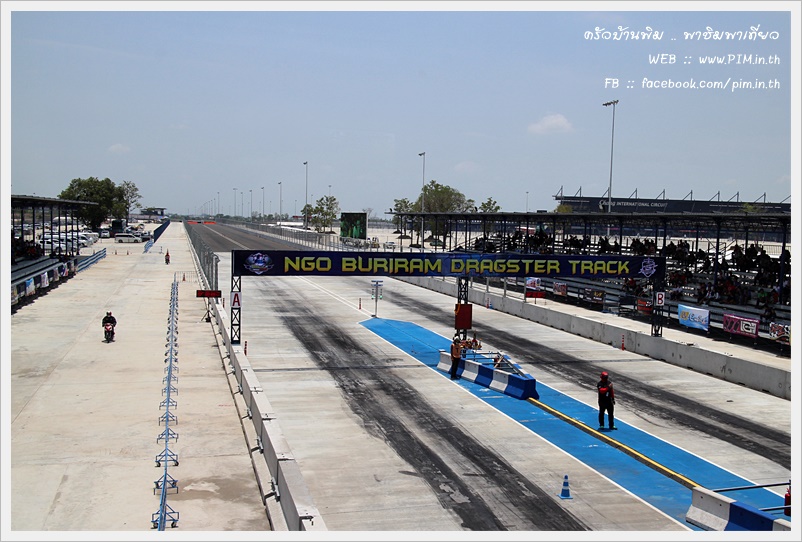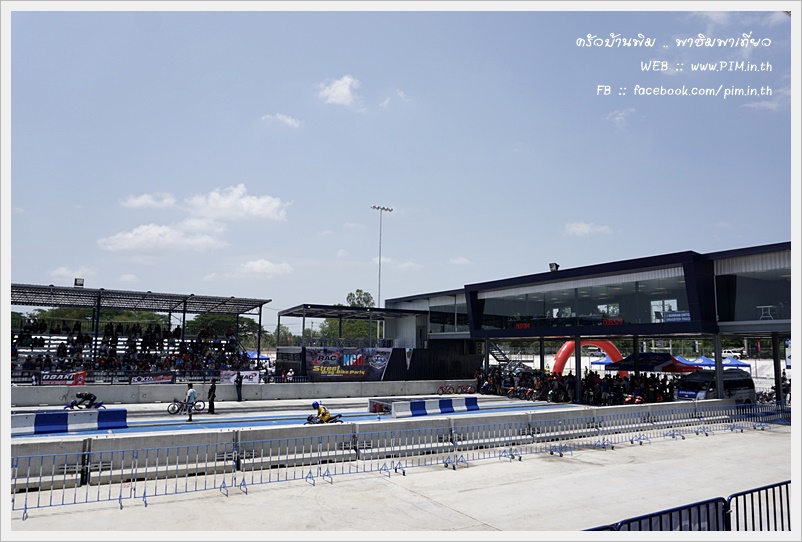 Here are the thropies for the winner of each series.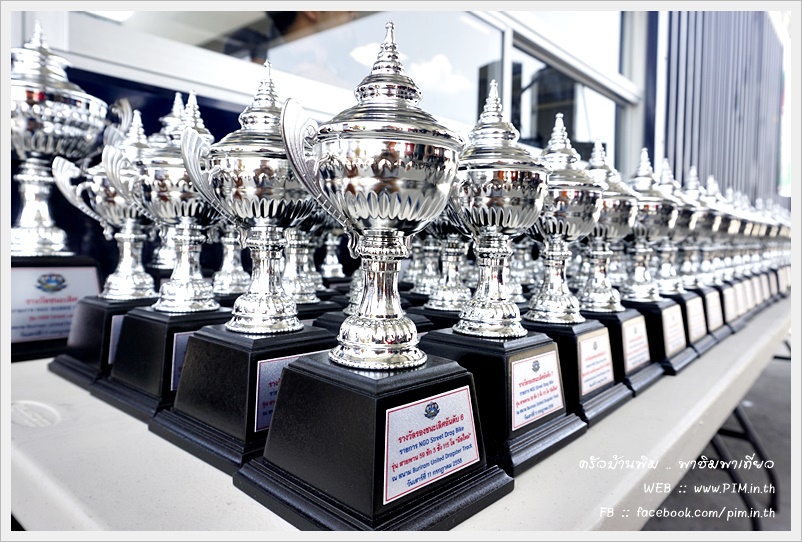 We didn't waste anytime and we also had a chance to visit this very real international racing circuit.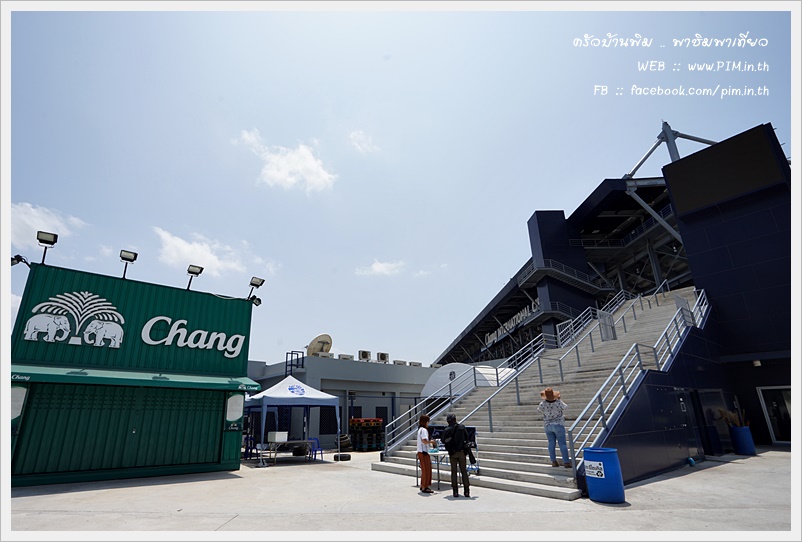 What's special about this circuit is that you can see the whole circuit from the stand. This circuit has brought Thailand racing scene to the international level for the first time, it's like a big bomb! This circuit has been created to meet the highest FIA & FIM standards. It's the pride of Buriram and Thailand. I got goosebumps all over by just telling you this.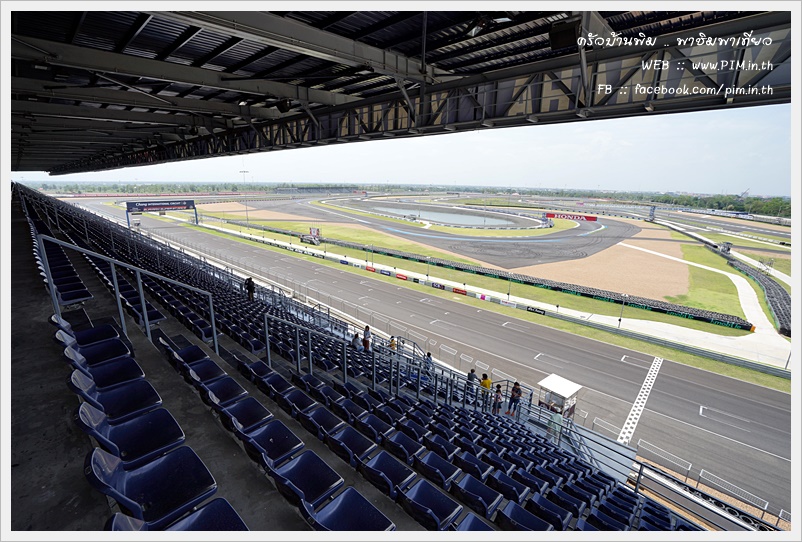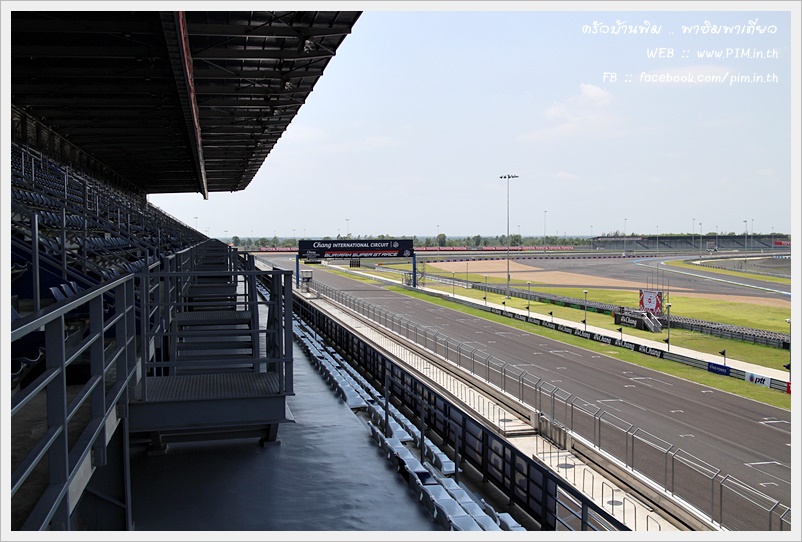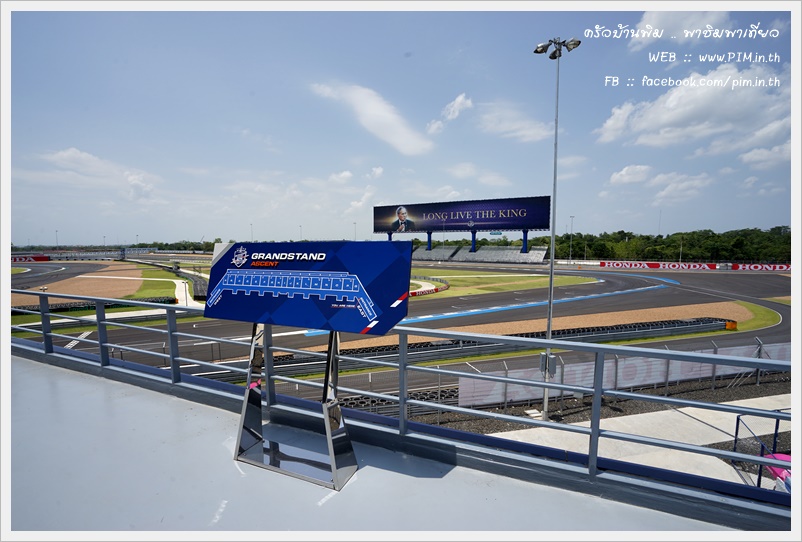 From the racing circuit in the rear, we moved to the fron there the i-mobile stadium is located. This is the best football stadium of Thailand and they host many football events here too. Unfortunately, they didn't host any event by the day we paid a visit... But that's okay. Buriran isn't that far from Bangkok. We can get here anytime we want.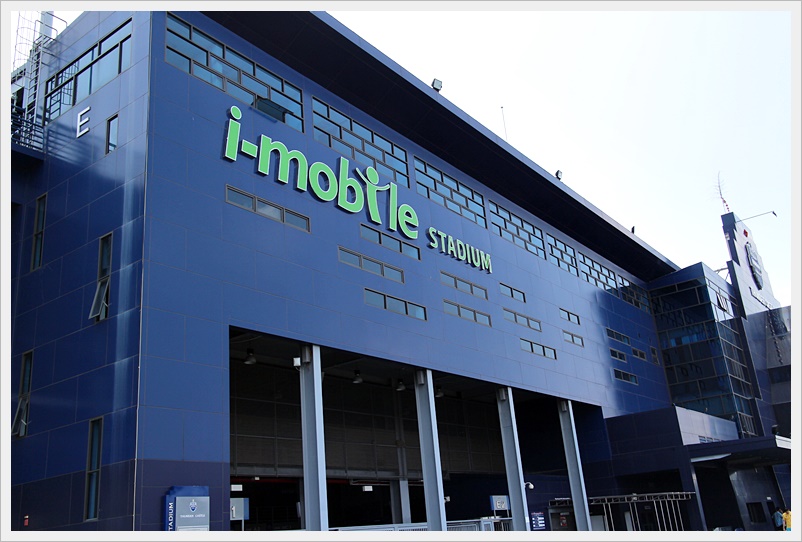 Even if it's a no-event day. You can still take a tour to see how it looks on the inside, there's no fee for this.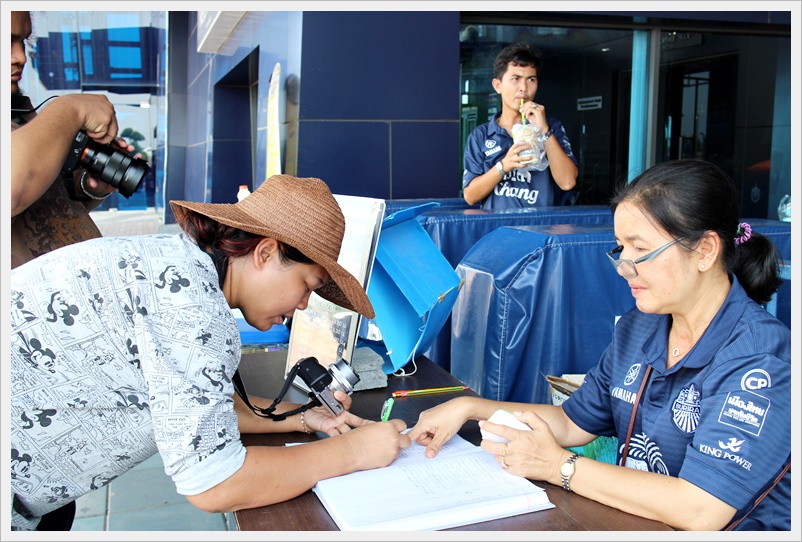 "Thunder Castle Stadium" is the official name of this very stadium. You can fill 32,600 people here, it doesn't look big but it just is! It's in the A-Class category certified by AFC. The whole area covers 240,000 square meters. And there are 96 seats for handicapped person around the stadium too.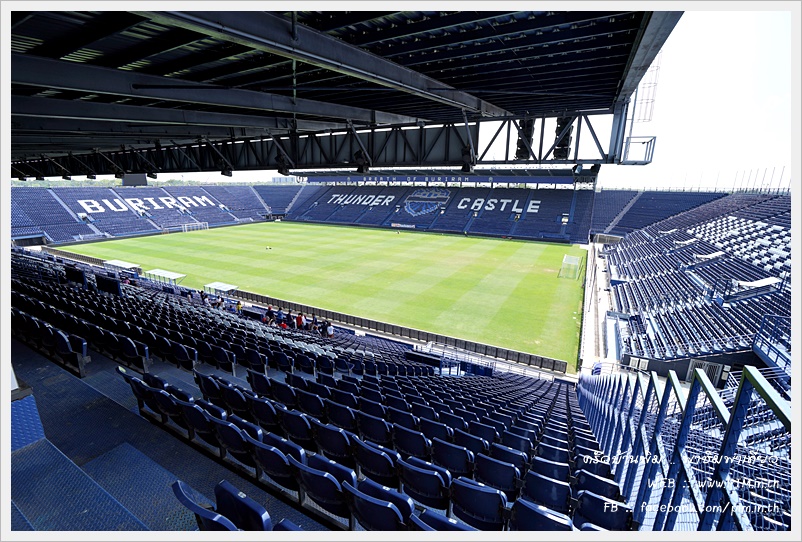 This is just amazing, isn't it?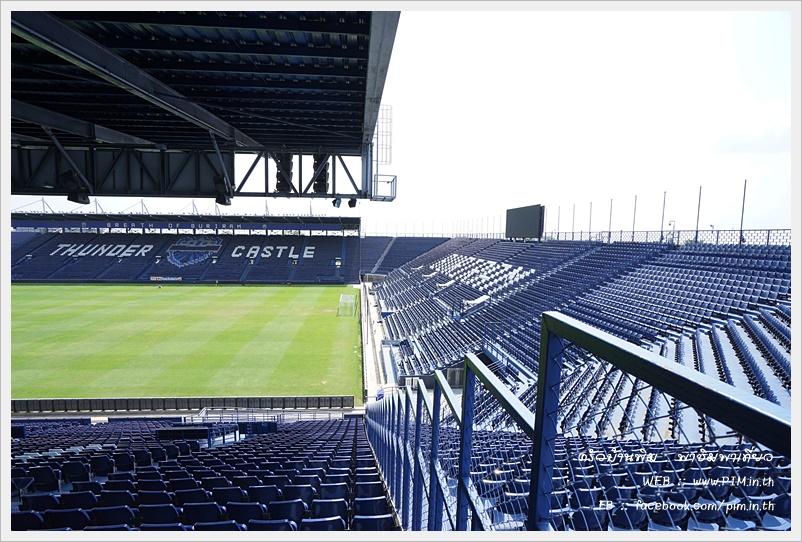 And they have an annual ticket for sale too. You pay 3,500Baht and you can watch all the football matches hosted by Thunder Castle in the whole year, get more and more from the ticket, and you get 5% discounts for all goods in Buriram United Mega Store and King Power Duty Free Shop too.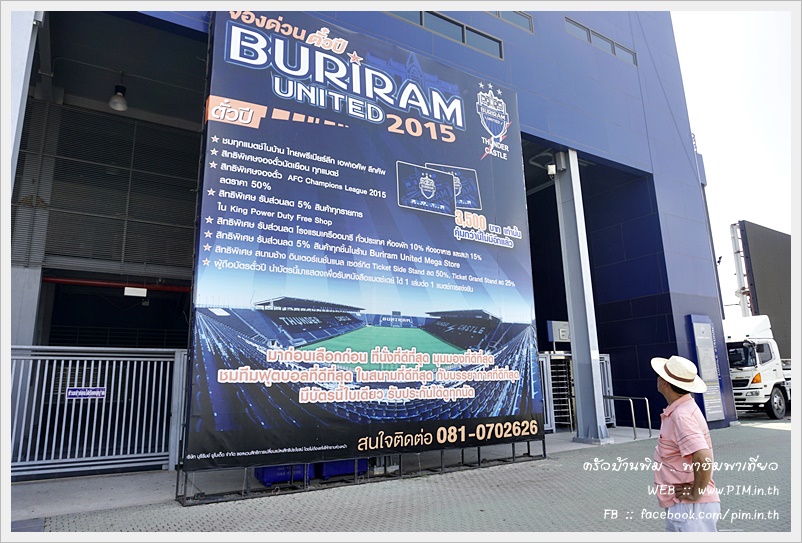 "Buriram United Mega Store" isn't just any souvenirs store. You'll be amazed getting in here.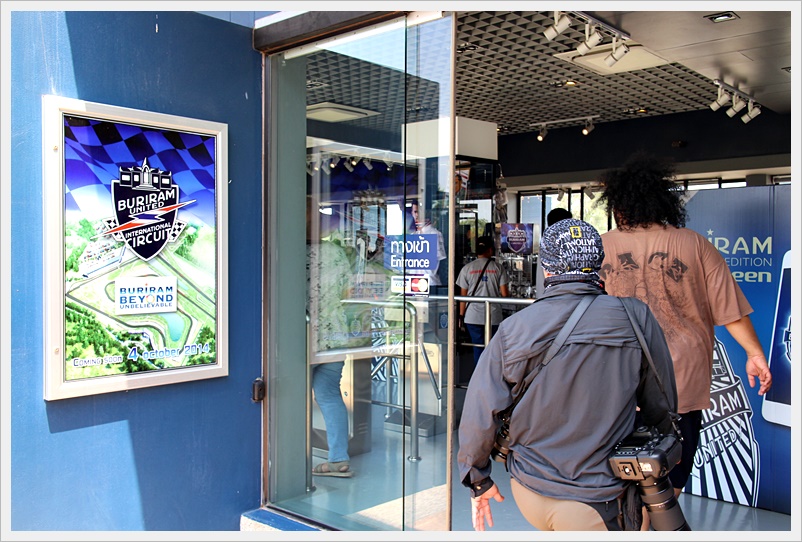 Souvenirs aside, there are tons of stuufs like shirts & badges even a motorcycle for you to buy if you're a Buriram hard fan.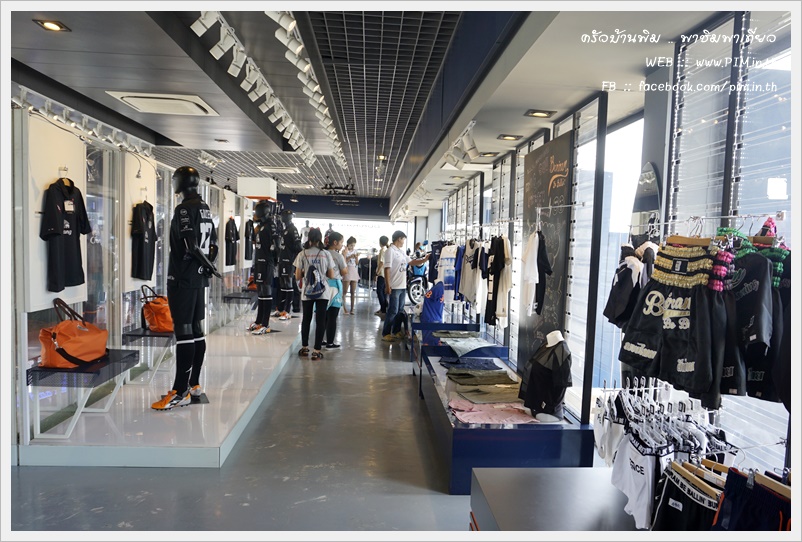 And we didn't miss a chance to buy ones for ourselves.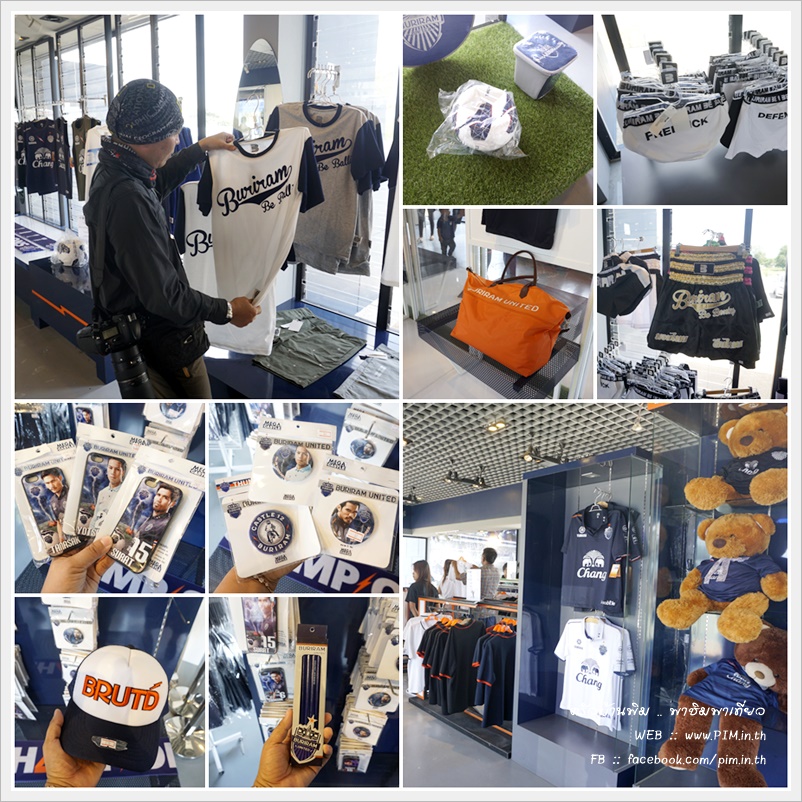 It's almost 2PM and we're starving already. hahaha
I've heard about this good place. It's an E-sarn restaurant called "Song-Pee-Nong". They serve north-earstern local's food, a good one. It's not that far from i-mobile footbal stadium, head outward the city, seek for this dinosaur and that's your e-sarn restaurant.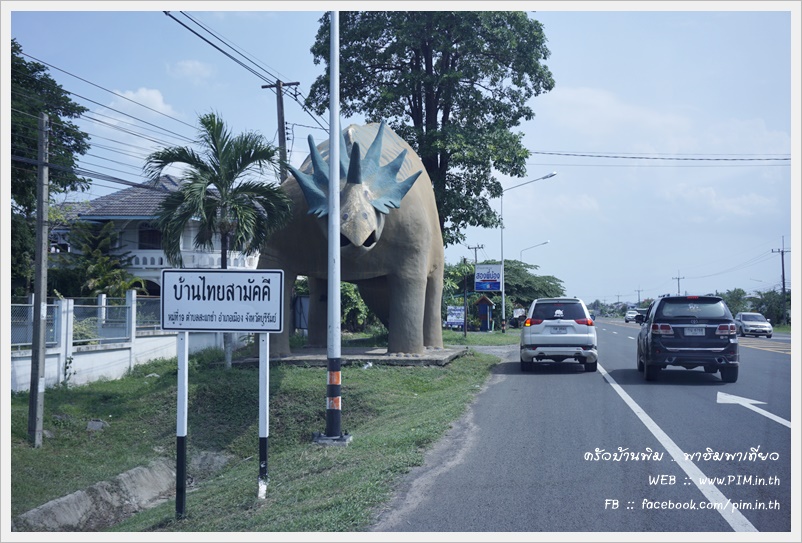 This is one of the most famous restaurants of Buriram, it's very well known by local people. Their signature dishes are made from duck. It's a must that you came here and order some of the dishes made from duck.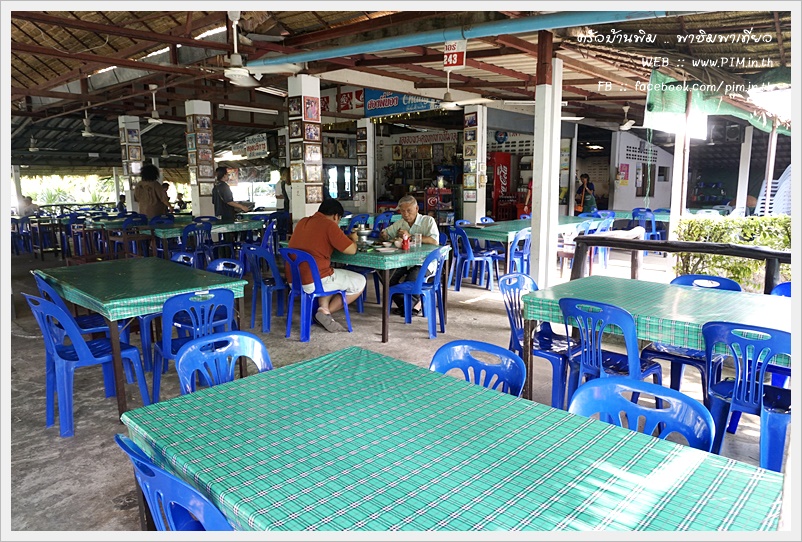 But some of local food are too much for us too, like raw meat and some fresh blood. They say it's good, but I wouldn't try. haha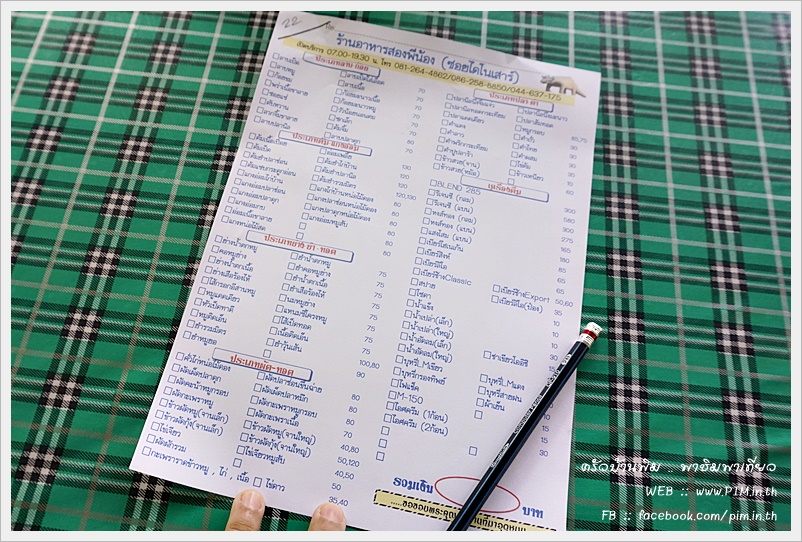 We ordered as many as we can think of, starving bunch of persons, you know what I mean. And they are all delicious!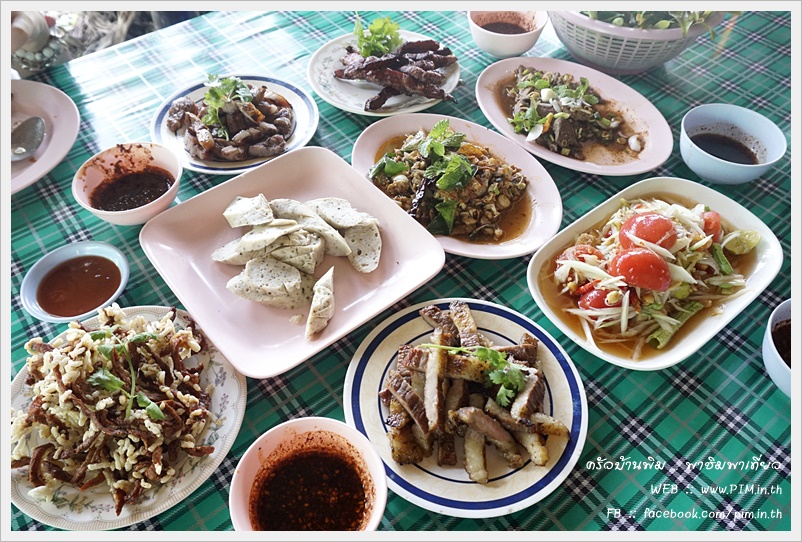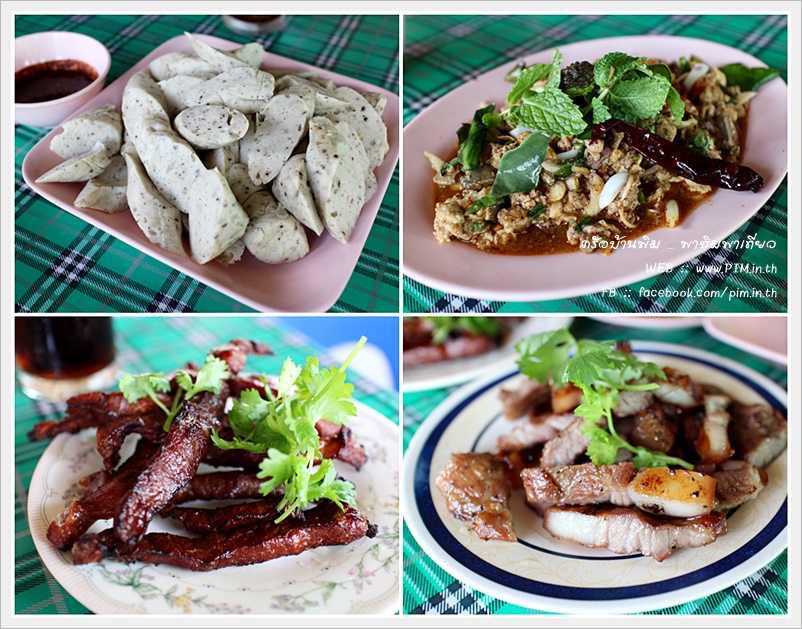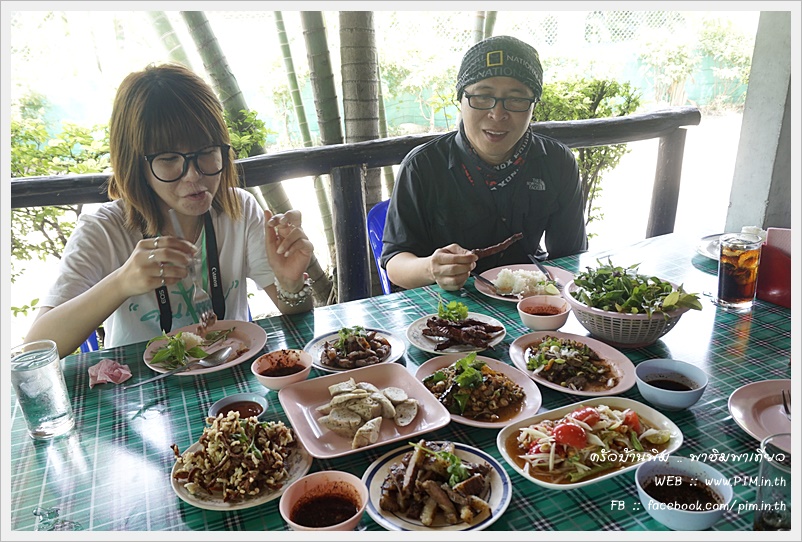 And the price... 4 of us with that many food. You still get changes by paying with one 500Baht bank note, very nice of them, good food with good price.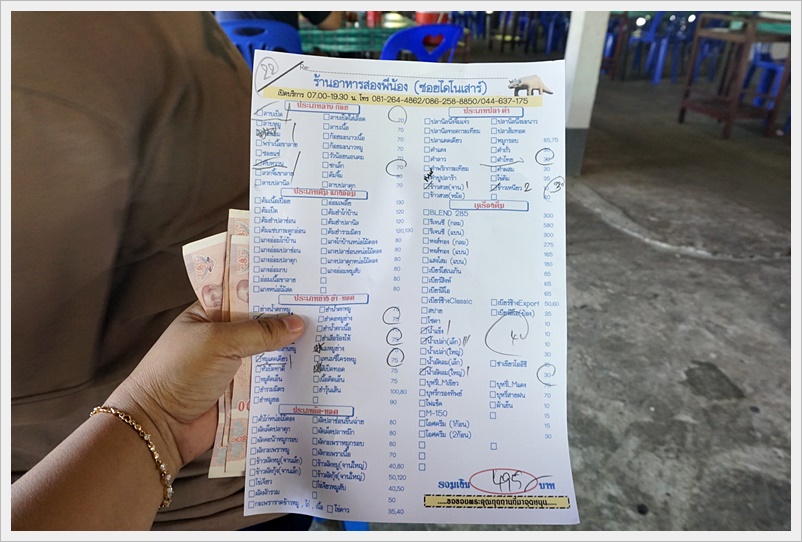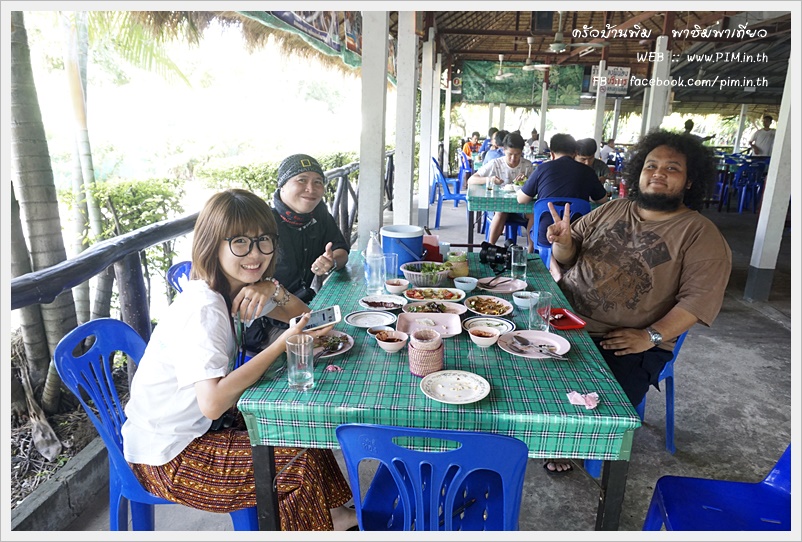 The next place is just 1-2km away from our restaurant, "Khao-Kra-Dong Volcano Forest Park Buriram". This volcane has been sleeping for more than 900,000years. And being a forest park, we think we should pay a visit to this one too. And it's just so hugeeeeeeeeeeeeeeeeeeeeeeeee.
Threre are two ways to reach the tops, first you go up there by car or the second choice is that you walk up the stairs by 297 big steps.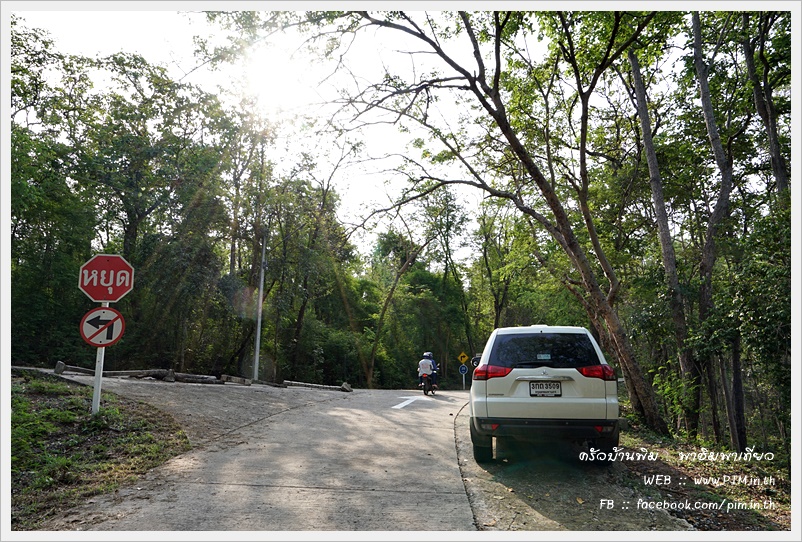 We stopped by the Lava Bridge, a bridge made of steel across the dead volcano itself. You wouldn't image that, would you?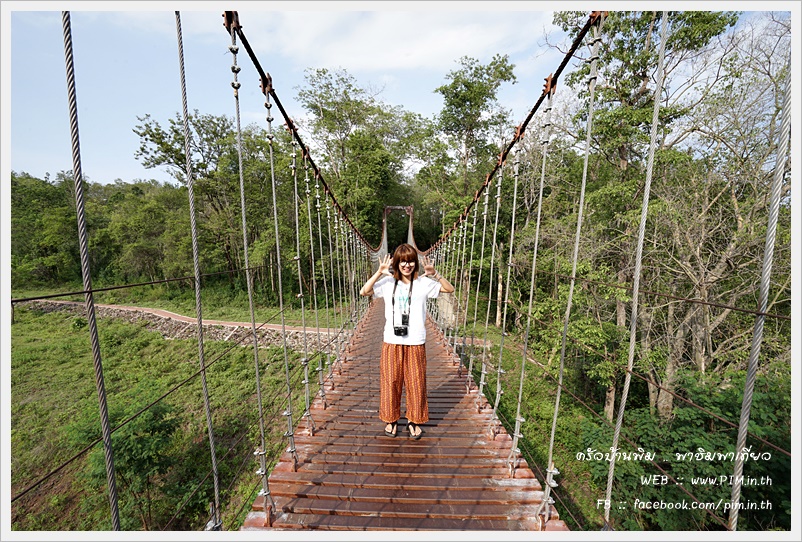 If no one tells us that it's a volcano beneath us. We wouldn't know. It just looks like any other forest park we paid visits.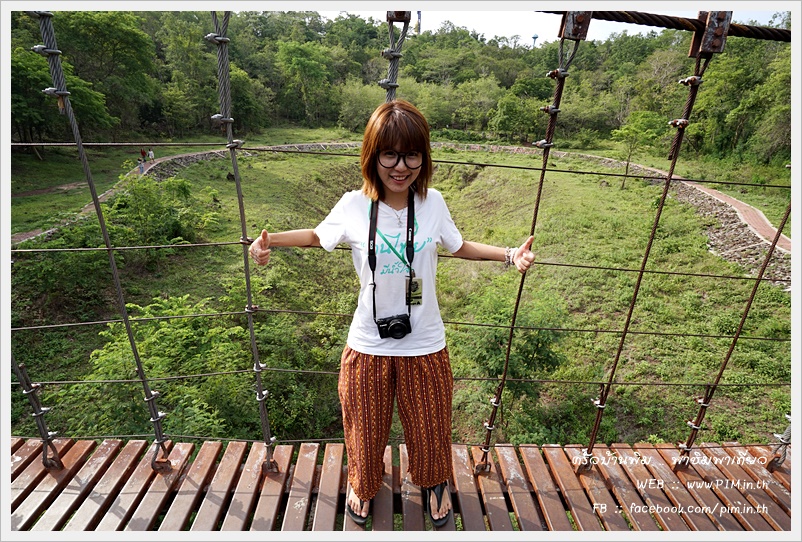 From the volcano, just a few minutes by car and we reached the top.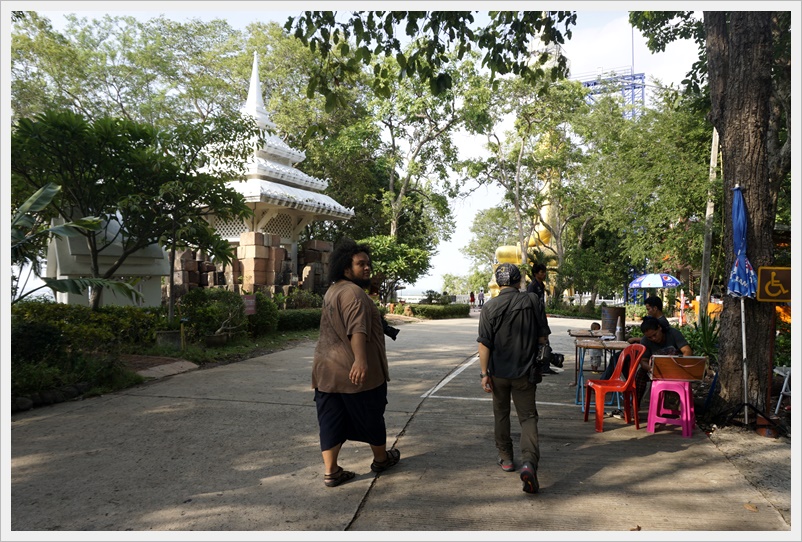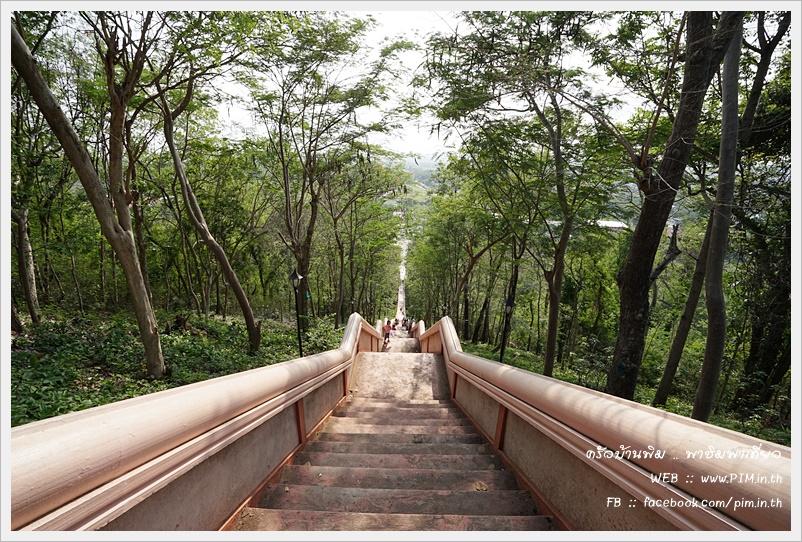 And there is a big gold Buddha statue here. You would like to pay him a visit. There is a great nice view here too.
และที่ด้านบนของเขากระโดง ก็จะเป็นที่ตั้งของปราสาทเขากระโดง ที่ด้านในประดิษฐานพระพุทธบาทจำลองเอาไว้ และถัดจากปราสาทเขากระโดงไปอีกหน่อย ก็จะเป็นที่ประดิษฐานของพระสุภัทรบพิตร พระพุทธรูปคู่บ้านคู่เมืองของจังหวัดบุรีรัมย์อ่ะค่ะ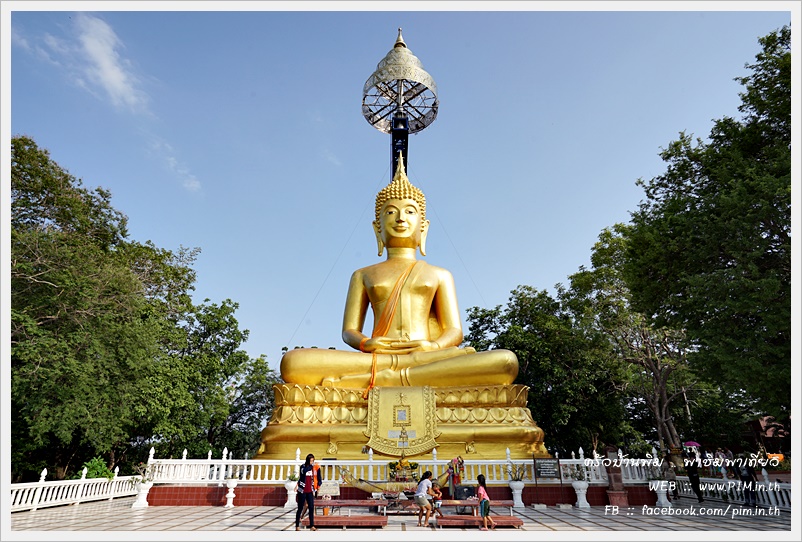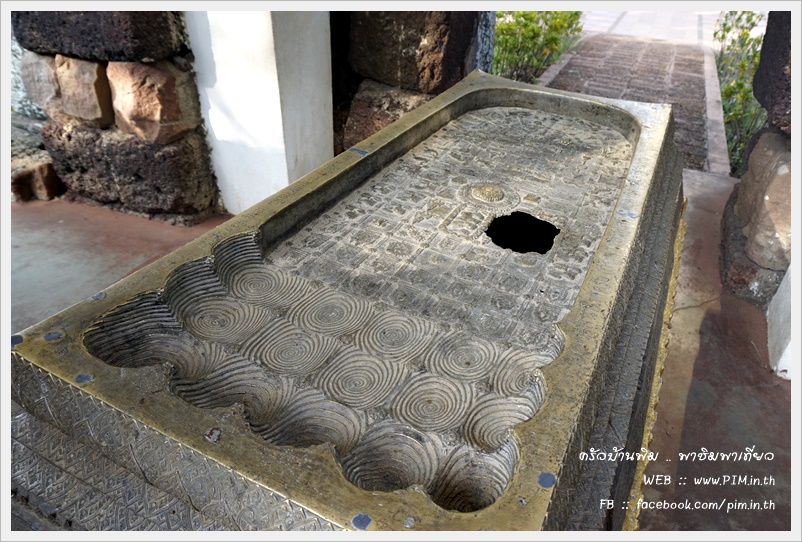 And there is a minimart that you can shop for snacks and drinks. In a hot day like this, an ice cream wouldn't be a bad idea.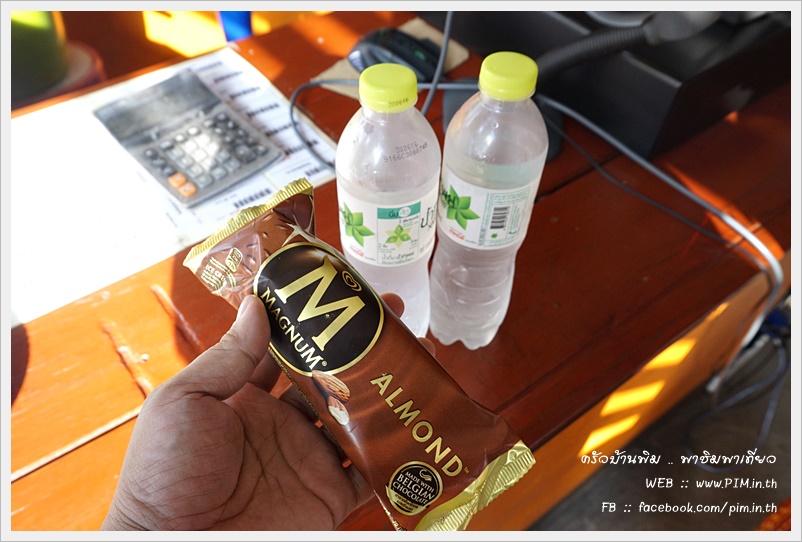 A few minutes of our afternoon break, here comes the challenge. This is a man made slider.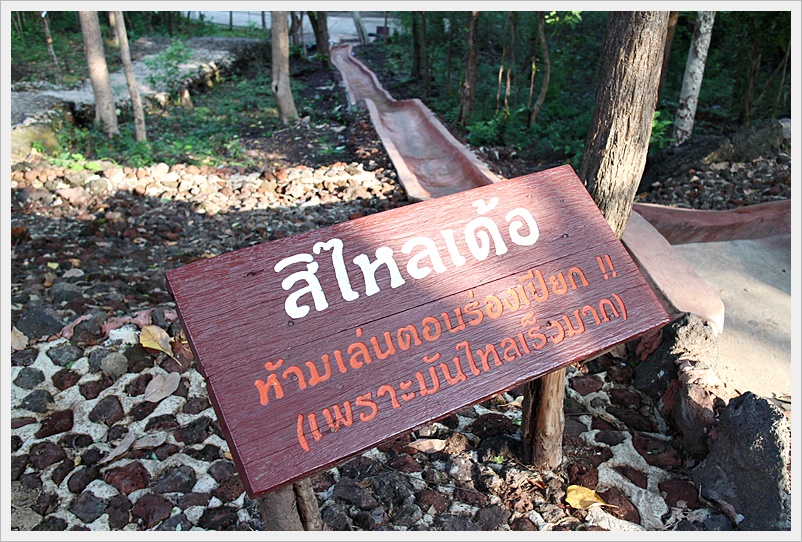 Our teammate, Tiny Pach, she didn't wait. She just slides it down like it's nothing. lol
You don't want to slide down this thing when it rains, it's just too slippery for you to control yourself for the desired speed.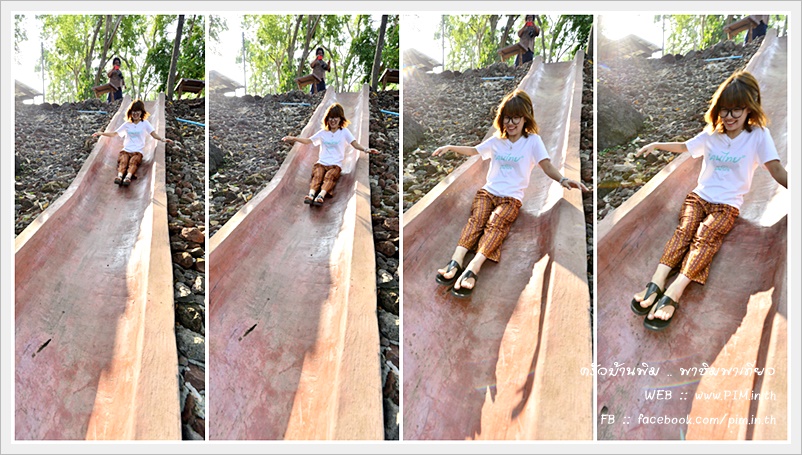 And after all those funs. It's time for Buriram's walking street. People gather here to sell, to shop, to share and to have fun.
The named the road "Sor-graaw". This word got famous thanks to the great comedian "Note-Udom", I guess it's being named after that.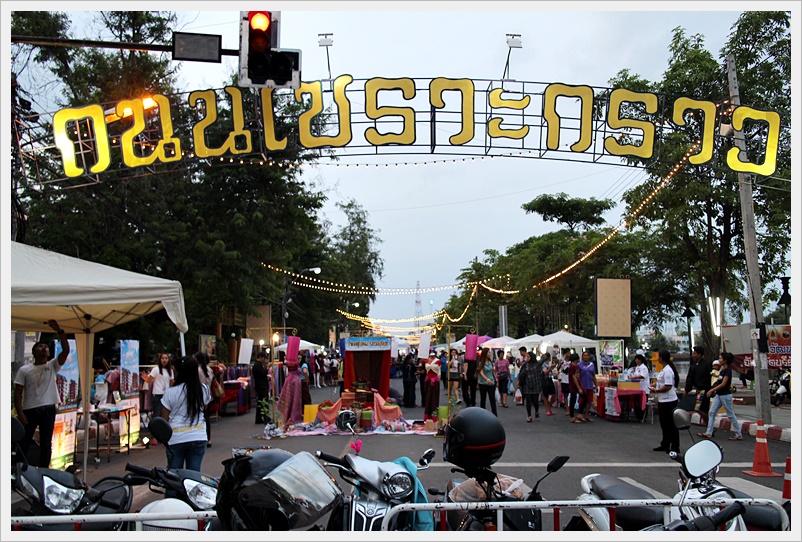 Many stalls here do sell products from their own community. And all these clothes are ones of them that you don't want to miss. The prices are reasonable.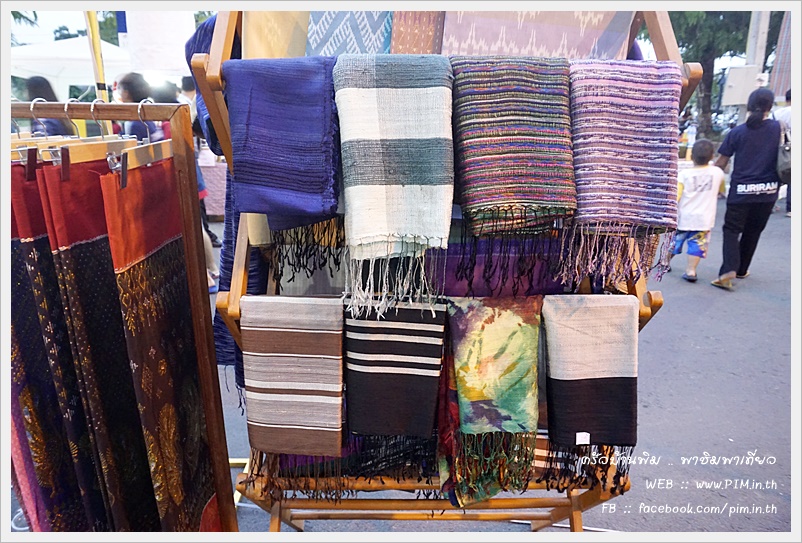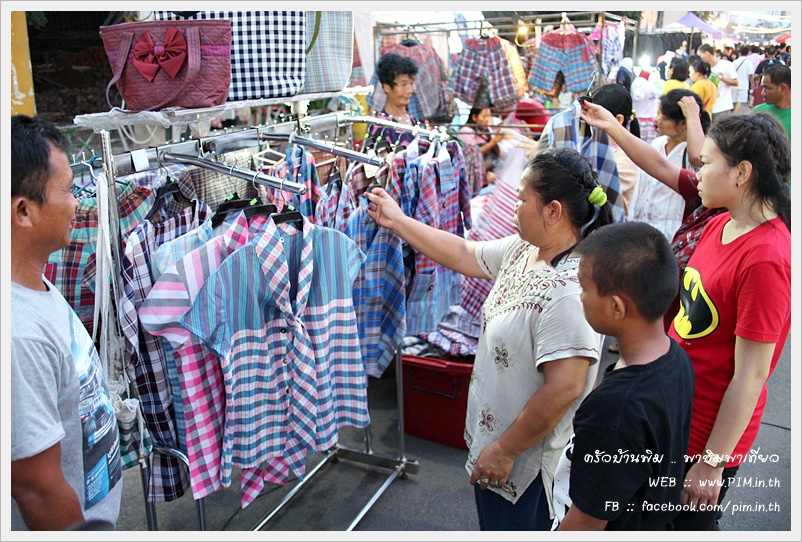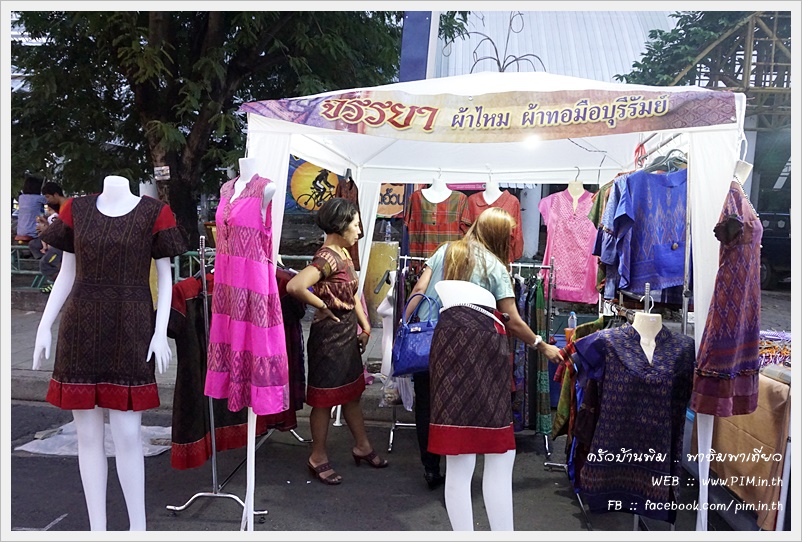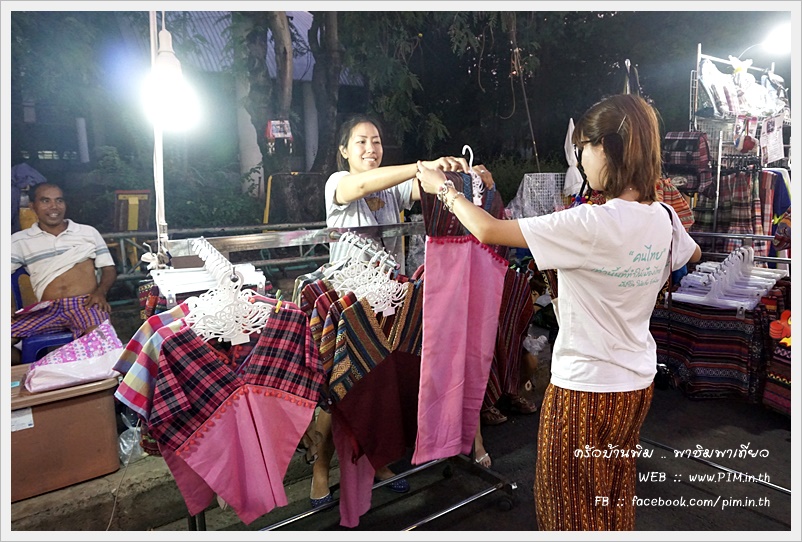 Talking Buriram walking street. You might have thought all the people here are tourists or travellers. But the most people who walk and shop are locals and some of them are from the area nearby, didn't expect that. This walking street sure makes the communties stronger.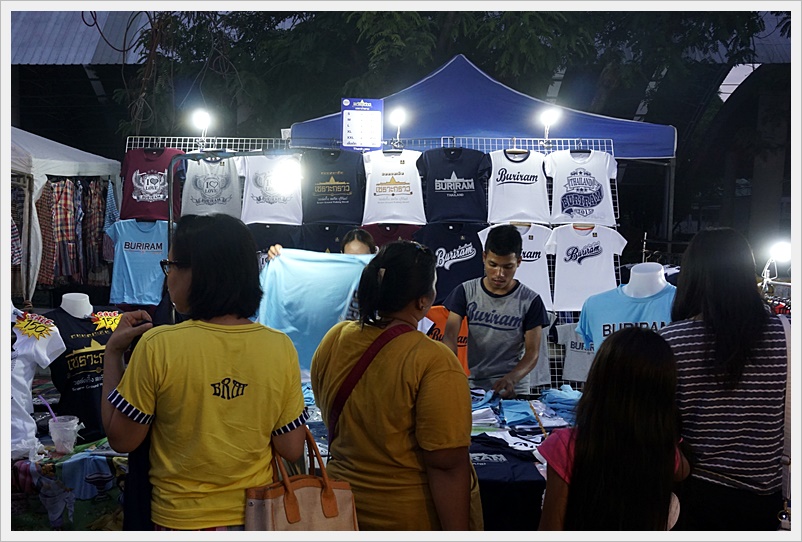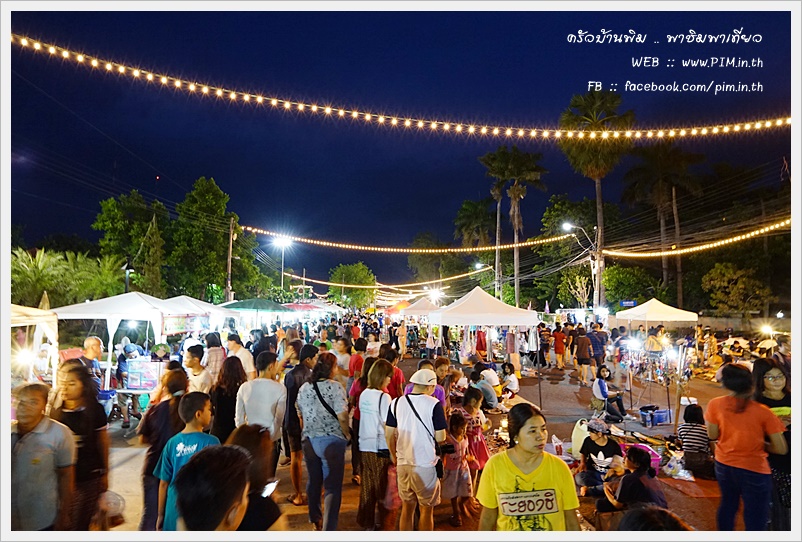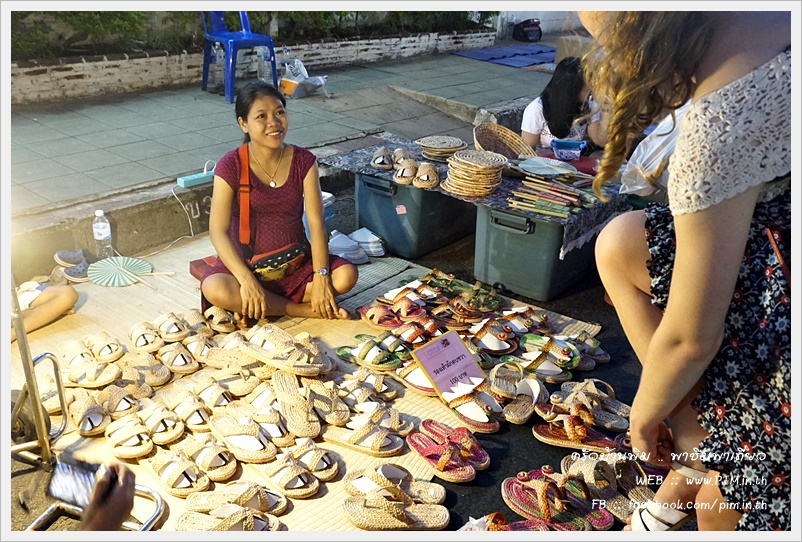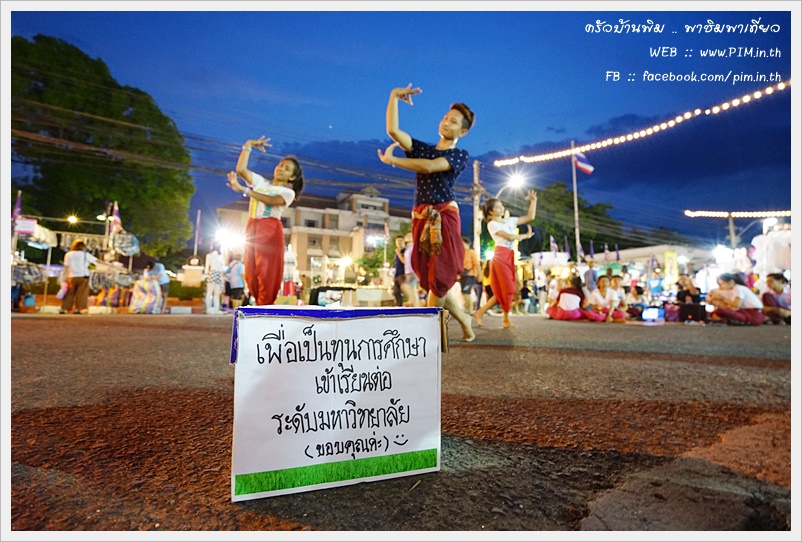 And this stall got me interested. They grow their vegetables without using any toxic. It's not that all the veggies they sell are organic. But they try to keep it clean and keep it away from any toxic that harms human ot the environment. They are one strong community. You will want to pay a visit if you are a veggie-lover.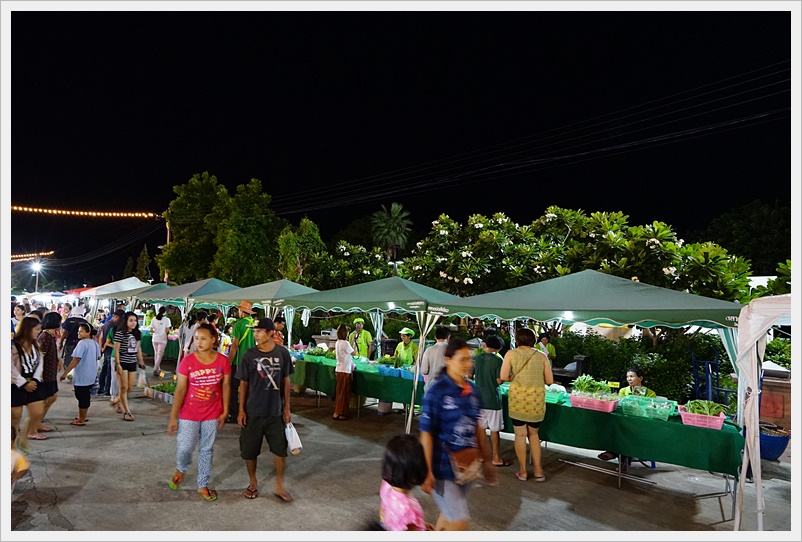 The price starts from 5~10Baht. That's not expensive at all. It's quite cheap for veggies grown with care.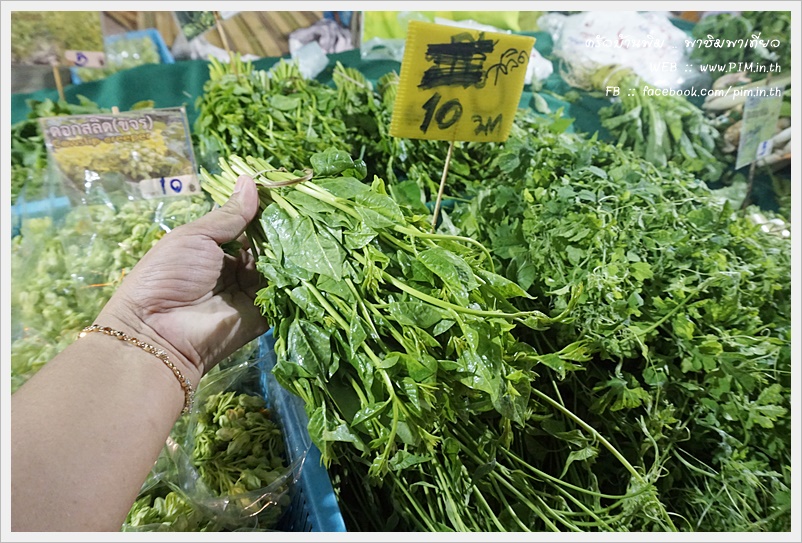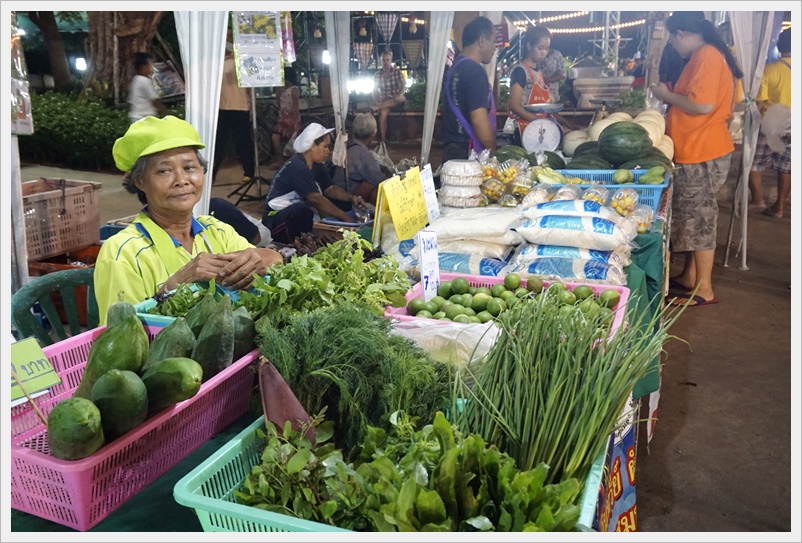 There are some vintage lights & sounds here too. You can enjoy some local tunes from the elders here.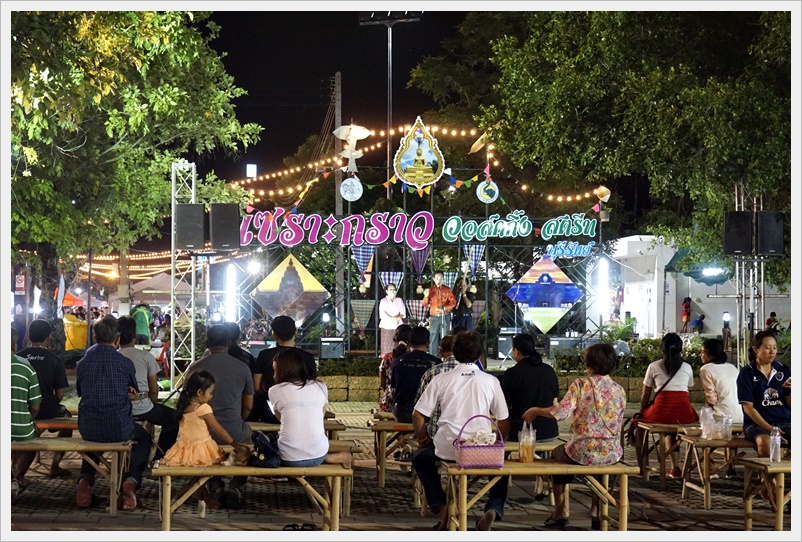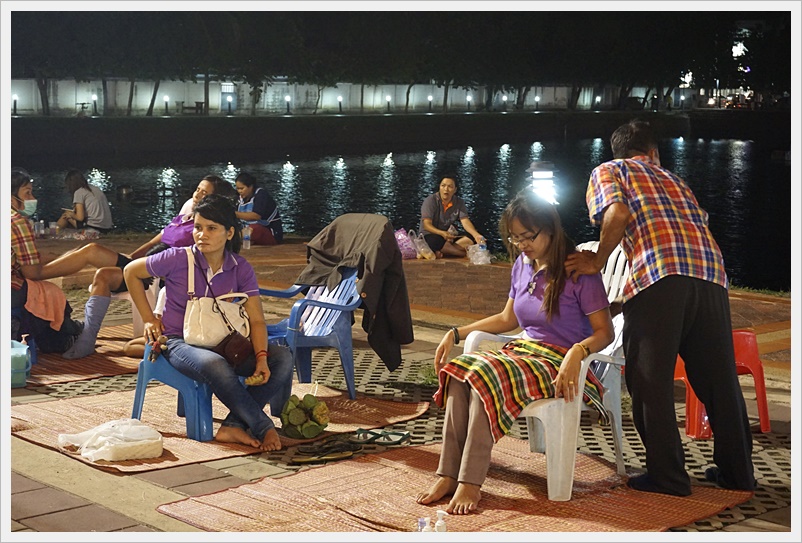 There are many more products from many communities.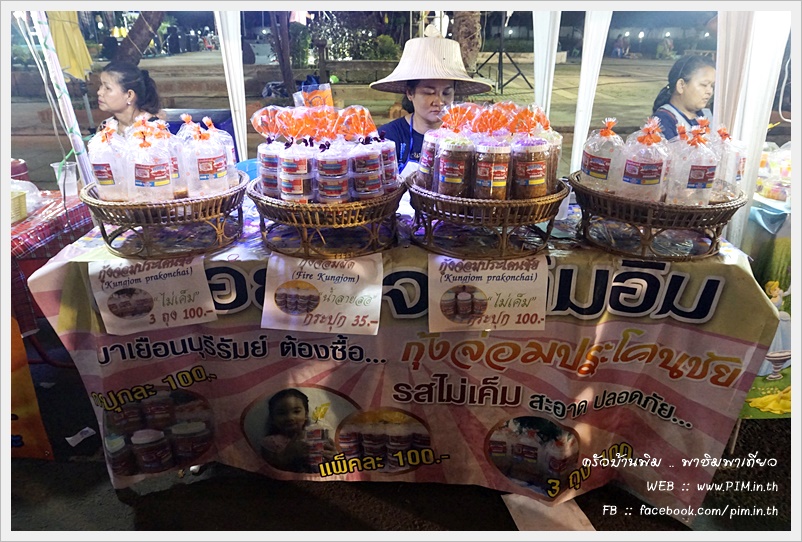 This stall is all about the juices. They serve Passion Fruit's juice and Baby Jackfruit's juice. The owner said he does everything from scratch, from growing up the fruits, and then made the juices our of them. That's kind of cool.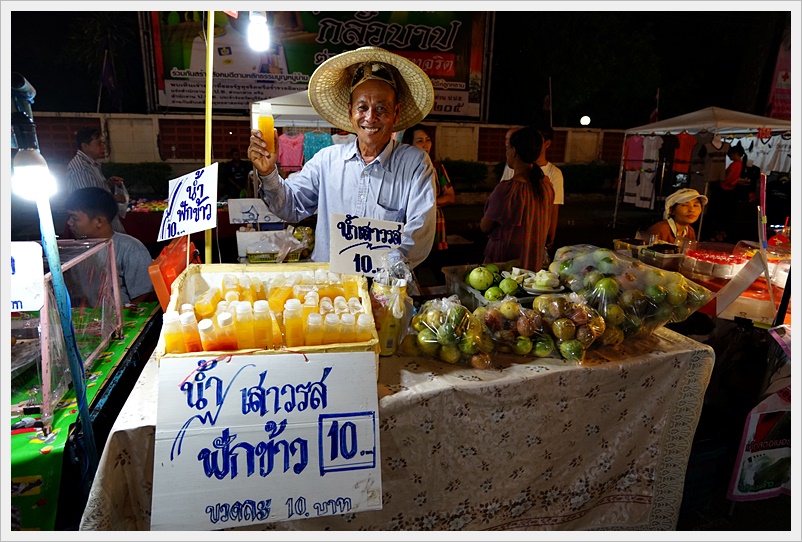 Even lotuses and jack fruits.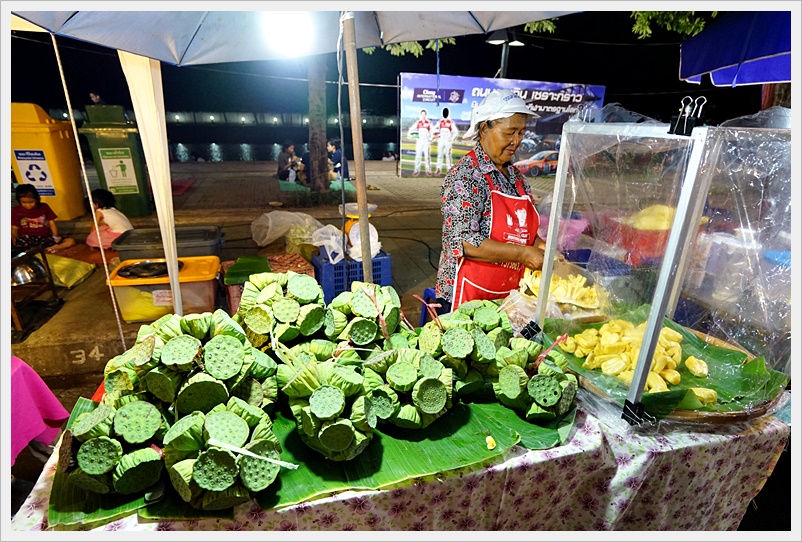 And "Khao-jee", grilled rice. They dipped the cooked rice in an egg bowl and season with some salts then grill. Very very delicious.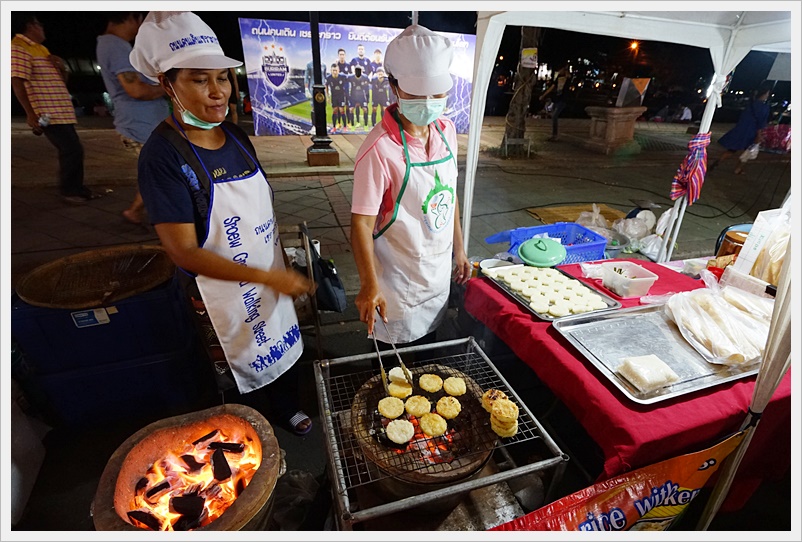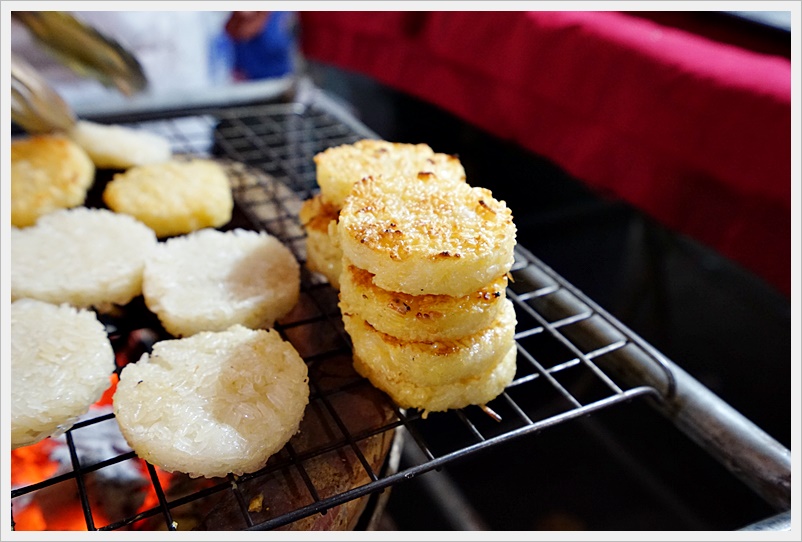 We spent hours at the walking street. We decided to get back at Baan-ter for a good night's sleep for this very tough day. On our way, we witnessed some amazing stuff at the football stadium. So we stopped by.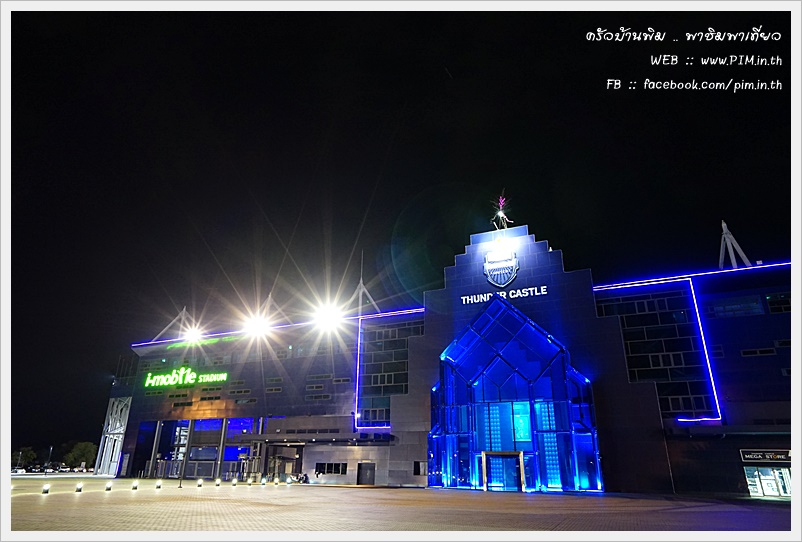 Today, Buriram United is an away team and went to participate in a match in opponent's home. And the Thunder Castle Stadium, they made the match LIVE here, at the front of their stadium. I didn't expect this much. But there are tons of people here who came here to cheer up a team from their home town, Buriram. The atmosphere here is more than amazing. I've never thought once in my live that I would experience this. The growl, the sadness, the happiness and all the reactions from what they see in that big screen are just amazing. We got goosebumps all over. Thumbs up to Buriram and its people!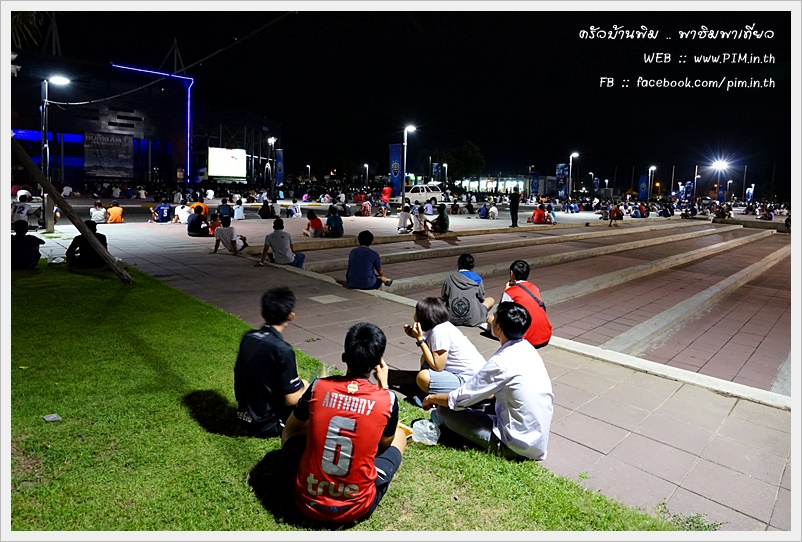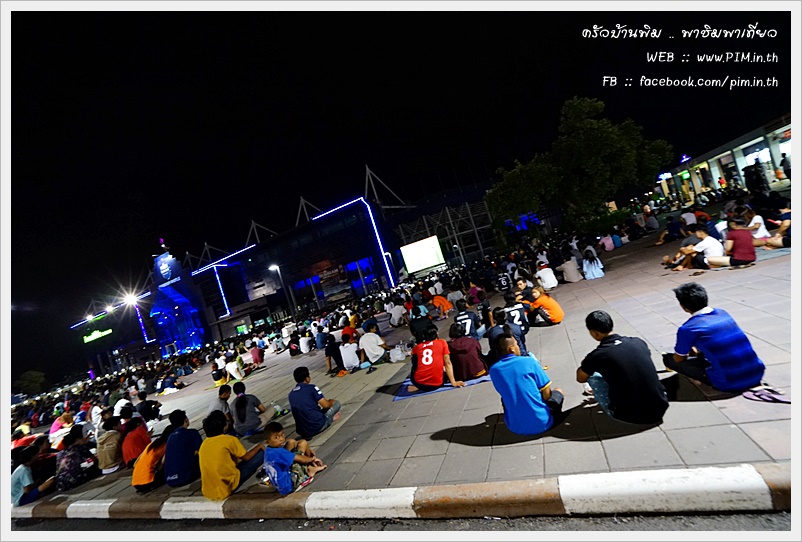 And after we spent sometimes using our energy at Buriram United stadium. We were starving just again, don't blame us. haha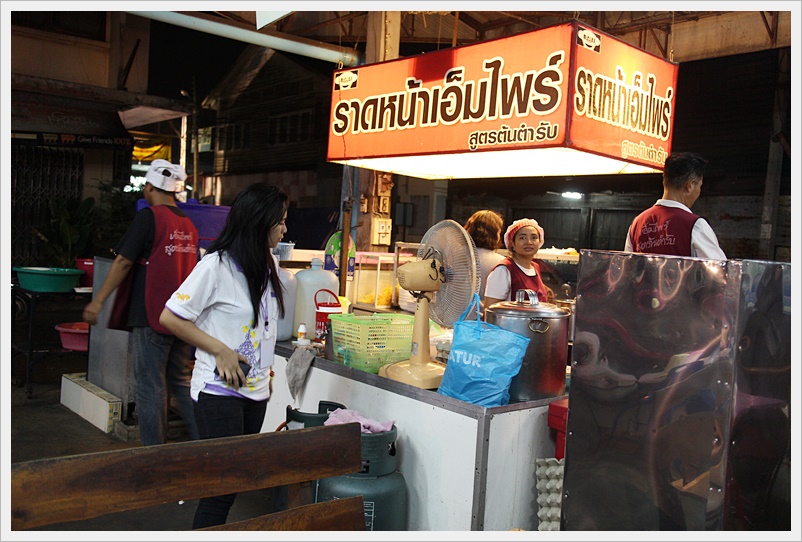 We took a stop at the old nightbarzar. And this stall is the specialists of making Chinese style fried rice noodles in sweet gravy. Or as a Thai, we just call this dish "ราดหน้า" or "Raad-Naa" in English. And they make good ones of them with reasonable price too!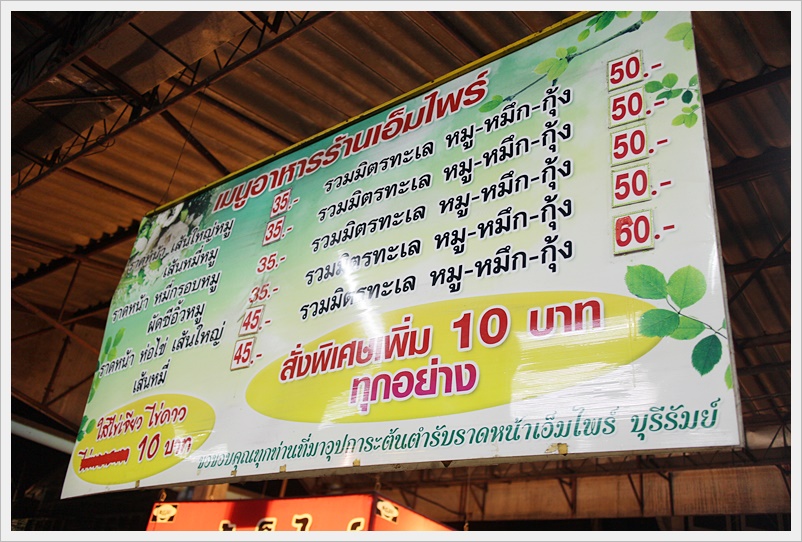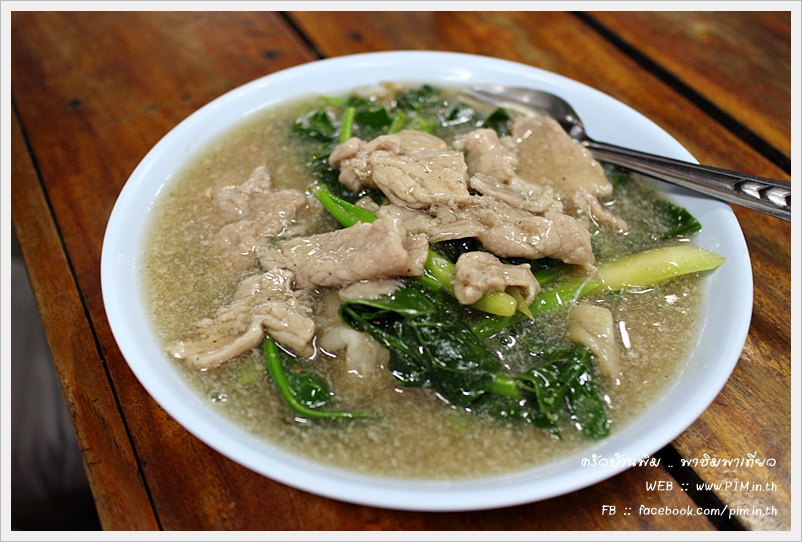 Our day tree was good and fun. We've experienced many things that are new to us.
And tomorrow will be a tougher day, trust me. And thank you for being with me in all these 3 days. Follow me through day 4 too!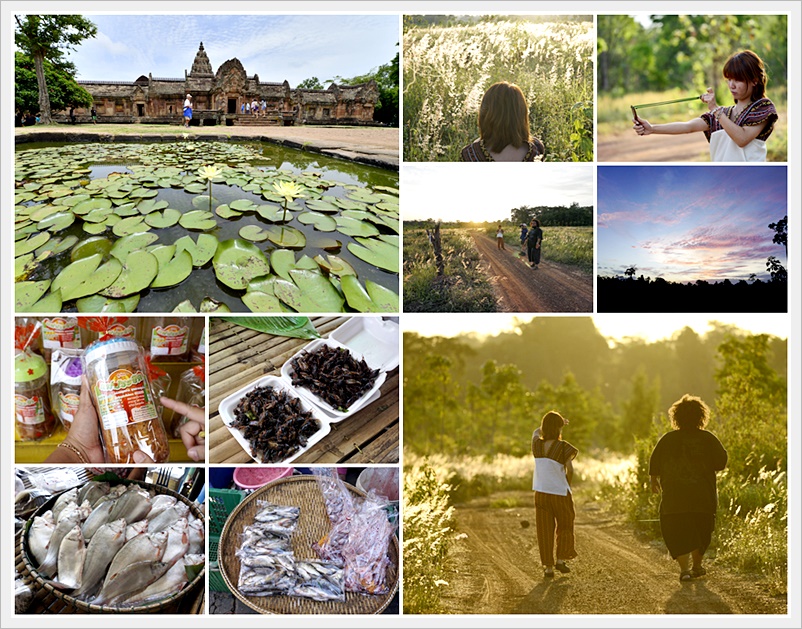 ---
It's possible for us to have such a great beautiful trip thanks to the sponsors that had supported us til the end.
We really appreciate all the efforts and supports from our sponsors.
Thank you NokAir, Thai Rent A Car, Keen, Outdoor Innovator and Tourism Authority of Thailand that made this happened.